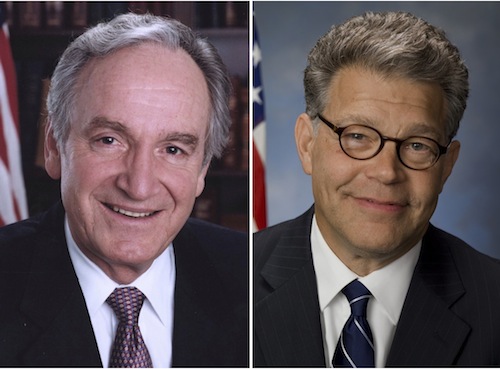 Senate Democrats are seeking to make protections for LGBT public school students law and part of the rewrite of the nation's massive education bill.
In the 1,150-page revision of the Elementary and Secondary Education Act, often referred to as the No Child Left Behind Act, and introduced yesterday as the Strengthening America's Schools Act, Sen. Tom Harkin (D-Iowa) included provisions that mirror the Student Non-Discrimination Act (SNDA). If enacted into law, the provisions would prohibit discrimination and harassment based on actual or perceived sexual orientation and gender identity.
"No child should dread going to school because they don't feel safe," stated Sen. Al Franken (D-Minn.), who proposed a similar provision two years ago, but was forced to withdraw it in order to secure Republican support. "Our nation's civil rights laws protect our children from bullying due to race, sex, religion, disability, and national origin. My proposal extends these protections to our gay and lesbian students who shouldn't ever feel afraid of going to school. I'm also pleased my provision is now a part of the education bill that will soon be debated in the Senate Education Committee."
The bill received unanimous Democratic support by all members of the Senate Health, Education, Labor and Pensions Committee, including the backing of Sen. Tammy Baldwin (D-Wis.), the chamber's first out member. No Senate Republicans have yet indicated support for the bill.
"I'm excited that the Student Non-Discrimination Act as introduced by Senator Franken [Tuesday] is also included in the Senate's Early Childhood Education Act (ESEA) for the first time, which would ensure that LGBT students are protected against bullying and harassment in schools," said out Rep. Jared Polis (D-Colo.), the sponsor of SNDA in the House. "SNDA's inclusion in this important bill is reflective of how important protecting all students is and I look forward to working with my colleagues on the Education & Workforce Committee to move forward on our bipartisan bill in the House."
Polis introduced SNDA in the House along with Republican Rep. Ileana Ros-Lehtinen (Fla.) in April. Supporters of SNDA argue it is similar to Title IX, which banned gender discrimination in the 1970s.
"All students, including LGBT students, deserve equal opportunity to a solid education and all of its benefits," said HRC President Chad Griffin in a statement. "School is where young people learn, grow, and develop mentally and emotionally. It's a space that must be free of discrimination and intimidation. Unfortunately too many are harassed, bullied, and discriminated against causing many to underperform or drop out."
The LGBT provisions in the education bill come weeks after LGBT-rights advocates were left disappointed and angry after Senate Democrats on the Judiciary Committee, including Franken, abandoned an amendment that would have extended protections to binational same-sex couples due to Republican threats to derail immigration reform. The LGBT-inclusive education bill is expected to face similar opposition from Senate Republicans.
[Photos: Tom Harkin (left) and Al Franken (Courtesy of the U.S. Senate)]