This is not hyperbole: Much Ado About Nothing reflects Joss Whedon's skill as a director as much as it celebrates Shakespeare's timeless words.
(Blasphemy, you say? Best of luck trying to seize my English degree. It's hidden in an undisclosed location in suburban New Jersey.)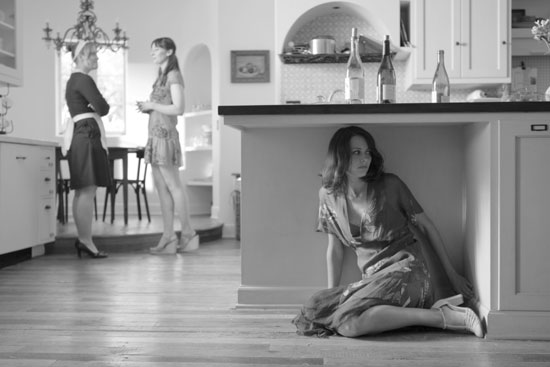 Much Ado About Nothing
(Photo by Elsa Guillet Chapuis)
In this modern-day retelling, Whedon blends Shakespeare's love of repartee and deception with his own giddy charm to create a rare beast of a movie. It's funny and it's erotic and it handles an awful lot of tricky subjects with a lightness and deft you'll rarely see in this sort of adaptation. Whedon doesn't reinvent the story in any profound way, and perhaps that's why it seems so revolutionary. Like a savvy theater director, he susses out contemporary themes from within the centuries-old text, then relies on his performers to encourage those ties between past and present.
And, oh! What a cast of performers. Whedon dug deep into his list of favorite actors to fill out much of Much Ado, including: Amy Acker (Angel, Dollhouse), Alexis Denisof (Buffy, Angel, Dollhouse), Nathan Fillion (Firefly, Serenity, Dr. Horrible's Sing-Along Blog), Clark Gregg (The Avengers), Reed Diamond (Dollhouse), Fran Kranz (Dollhouse, The Cabin in the Woods), Tom Lenk (Buffy, Angel, The Cabin in the Woods), and Sean Maher (Firefly, Serenity). The rest of the key players — the little-known Jillian Morgese and the Internet-famous Riki Lindhome, among others — play along the beats and rhythms as if they're old pros, too.
MUCH ADO ABOUT NOTHING





Starring Amy Acker, Alexis Denisof, Clark Gregg
Rated PG-13
107 minutes
Now playing
Landmark E Street Cinema
What makes Much Ado great, though, is its sense of timing. While he doesn't alter the original text — to my ear, Shakespeare's lines aren't significantly changed — Whedon inserts a handful of silent visual jokes to piggyback off of what we hear. When Claudio (Kranz) and Don Pedro (Diamond) trick Benedick (Denisof) into thinking Beatrice (Acker) loves him, they fist bump. Before the bumbling policemen Dogberry (Fillion) and Verges (Lenk) exit, they lock their keys in their squad car. These wordless cues aren't just hilarious; they legitimize the movie's present-day setting and, wonderfully enough, give each actor an opportunity to have some fun.
Much Ado is also remarkably gorgeous and shot with a keen eye for artistic balance and…. And I'm still going on and on about it like a love-struck buffoon because I don't think I've seen a movie this year I enjoyed watching as much as I enjoyed this one. Whedon's created a wine-soaked world of high spirits, tall windows, natural light and tremendous romance. What more do you need? Much Ado has its flaws, and yet I can't recommend it strongly enough. There's an incorruptible joy to this movie. It is utterly delightful. Your face with ache with happiness if you see it. Mine certainly did.