It's become a familiar sight at the annual Capital Pride Parade and Festival, as well as most of the other major events this month: sponsors handing out the swag. For most businesses it's a great opportunity to advertise before a loyal customer base and make a statement about their company's values. In addition to the major corporate sponsors, many individual events have local community business sponsors who come out to mix business with pleasure and connect with their prime customer base. Chanel Turner, creator of Fou-dré Vodka and longtime member of the local LGBT community, says, "Getting out and partnering with family is very important."
Some people bemoan the commercialization and some love the opportunity to learn about LGBT-friendly businesses and get some fun and useful items. Sunscreen and handheld fans are always popular in the summer heat. Turner will be handing out free samples of Fou-dré at the Capital Area Gay and Lesbian Chamber of Commerce (CAGLCC) VIP Lounge at Hotel Monaco during Sunday's Pride Festival and at Women's Wednesday on June 19. She is the first African-American woman entrepreneur to create a new vodka and has invested significant amounts of time and energy creating one with a taste that goes down smooth. Early reviews have indicated she has succeeded. Now she faces a task equally as hard: establishing her brand and building a following. She'll be premiering her premium fruit-infused spirit in a killer bottle this summer. She's starting in D.C. since it's her home base and she feels Capital Pride is the perfect venue.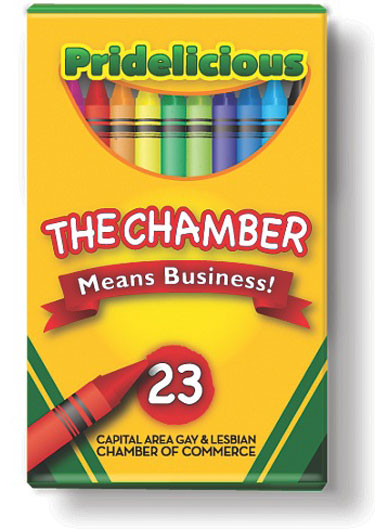 "Our brand thrives on nonconformists and individuals comfortable in their own skin, marching to their own beat," says Turner. "This is a big part of our company and branding efforts."
Another first-time Capital Pride sponsor is Brad Hurtado, the executive producer of Sand Blast Weekend, a circuit party at Asbury Park on the Jersey Shore. Hurtado reasons there's no better place to advertise a big gay party than at a big gay party.
"Sand Blast was founded to promote Asbury Park to the LGBT community 12 years ago when Asbury Park was basically a glorious ruin on the shore that had fallen on very hard times," he says. "We knew that gays and lesbians would be interested in homesteading here and helping bring this former jewel on the Jersey Shore back to life."
Sand Blast already has a huge following of New Yorkers, Philadelphians and New Jersey residents, but Hurtado says Sand Blasters "would love to connect with our brothers and sisters in D.C. and Baltimore."
Look for a Sand Blast representative at CAGLCC's Capital Pride Festival booth.
Without businesses willing to step up and donate everything from free samples to fundraising auction items to booths at the annual festival, the celebration wouldn't be very celebratory. We'd probably all be standing around, thirsty and bored. And by supporting the local LGBT businesses in our community, we can completely change the course of their business as well.
"We thrive on standing out from every other vodka and I'm happy to be leading this effort to get the community engaged," Turner says. "Their support would mean a lot."
As you sample everything that is available at Capital Pride, be sure to stop by the Chamber's booth at the festival to learn more about LGBT businesses in the D.C. metro community and take a moment to toast the sponsors, large and small, that make this month the celebration that it is.
To see a list of the Chamber's Capital Pride sponsors or to find out how you can get involved in CAGLCC's Capital Pride efforts, visit caglcc.org.
Winner of the 2012 NGLCC Chamber of the Year Award, the Chamber means business. For more information, visit caglcc.org.
Jessica Vaughan is a D.C.-based freelance writer and a member of CAGLCC.