It was always assumed that Pascal Tessier would join the Boy Scouts. His older brother, Lucien, had joined when he was 7 years old. Four years later, when Pascal turned 7, he joined as well.
"They loved being outside, they were very active, and we as a family loved camping and being outside, so it was sort of a natural program for us to get interested in," recalls the boys' mother, Tracie Felker.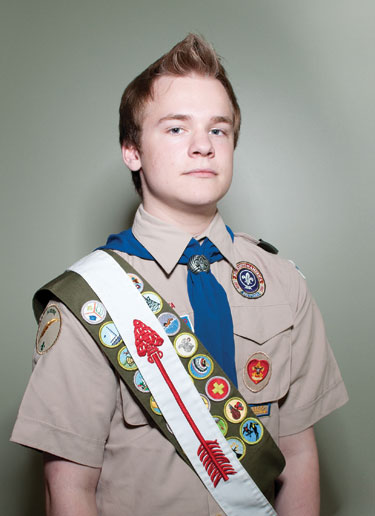 Boy Scout Pascal Tessier
(Photo by Todd Franson)
Growing up in the largely accepting Maryland suburb of Kensington, just outside of D.C., the two brothers faced little backlash when Lucien came out as gay in 10th grade and when Pascal did the same about a year later, when he was in 7th grade. Their parents accepted them, as did their fellow Scouts.
"It just wasn't an issue for anyone," says Pascal.
For Tracie and her husband, Oliver, the issue wasn't so much that their sons were gay, but that they assumed they knew them completely.
"When Lucien came out to us we were totally surprised as parents. I was surprised about Pascal, too. It really was a humbling experience as a mother to think that someone that I really thought I knew completely, both of them, actually I didn't," she says. "The hardest thing for me was realizing that, as a mom, I was out of touch. That was kind of a hard pill to swallow."
But around the same time Pascal was coming out and Lucien was receiving his Eagle Scout rank, the family began to become aware of a growing movement against the century-old organization's longstanding ban against out gay members and leaders.
In 2000, the Supreme Court ruled that the BSA could prohibit gay people from serving. But as the tide of public opinion about homosexuality has shifted, pressure had increased for the BSA to catch up with the times. In July 2012, the BSA upheld its ban on gay youth and leaders. The ban's reaffirmation came after the recommendation of an anonymous 11-member committee that studied the issue for two years.
However, following public backlash and countless outside petitions launched by Change.org that saw nearly 2 million people call for an end to the ban as well as organizing efforts by GLAAD, the BSA sought another review. According to a BSA release from April announcing the proposed resolution, the response the BSA received was clear: "While perspectives and opinions vary significantly, parents, adults in the Scouting community, and teens alike tend to agree that youth should not be denied the benefits of Scouting."
As Tracie Felker began to meet with a group of parents involved with the Scouts and started writing letters urging the organization to end the ban, Pascal and Lucien began speaking out.
"We just asked Pascal how he would feel about getting kicked out for speaking out and he said, 'That's my calling,"' says Tracie.
Although they received a few hate emails and a letter at their home urging them to come to their senses after the Associated Press ran a story on the family earlier this year, the response was overwhelmingly positive, including one man who sent Pascal his own Eagle Scout badge from the 1970s.
The family's activism brought them to Dallas last month when more than 61 percent of the 1,400 members of the BSA's 270 councils voted to end the organization's ban on gay youth. But until the vote was called, it remained uncertain what the outcome could be.
"I was thinking in the last 10 minutes a lot about Pascal. I was looking at him, he was sitting on the floor and he was talking to someone from Change.org and they were writing a press release that would have been released had the vote gone the other way. I was thinking, 'This might be Pascal's last 10 minutes as a Scout,"' recalls Tracie.
But Pascal remains a Scout, and as he begins to work on his Eagle project a few months before his 17th birthday, he says he is as determined as ever to bring full equality to the Boy Scouts, once and for all.
METRO WEEKLY: Why is Scouting important to you?
PASCAL TESSIER: For me, it's really a growing-up experience. It forms you into a better person, really. It makes the biggest change when you're young and it sets you on the right path in a way. It teaches you how to be a good person. But it also teaches you a lot of great things, like leadership, which is very important. I wouldn't have many of the life skills that I have now if I had never been in Boy Scouts or Cub Scouts.
MW: When did you join the Boy Scouts?
TESSIER: When I was about 7 years old. My brother joined at the same age and he's four years older than me and I just kind of followed in his footsteps. It looked like something that was fun and I wanted to be around other kids my age and camping seemed like it was fun.
MW: When did you come out?
TESSIER: My brother came out when he was in 10th grade. At the time, I was in 6th grade, and that's when I started actually realizing being gay was a real thing. I knew what it was at the time, but obviously I'd never thought about it, because when you're in 6th grade you're not really thinking about your sexuality. But I started to realize I was gay around 7th grade, and then I came out in 8th grade.
MW: What reactions did you receive?
TESSIER: Completely positive. I've never had any negative feedback, in the troop or otherwise