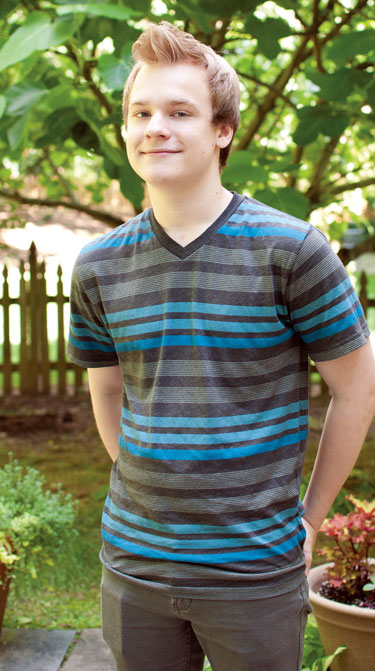 Pascal Tessier
(Photo by Todd Franson)
MW: Were you aware that there was a ban on gay Scouts?
TESSIER: At the time, no, actually, I didn't. I only found out that there was a ban about a year or two ago. So when I came out, at the time, I didn't know that I was under threat of being banned from Boy Scouts because I was openly gay.
MW: But when you came out, no one threatened to kick you out?
TESSIER: No, it was never even mentioned.
MW: Why was that?
TESSIER: It just wasn't an issue for anyone. Nobody really cared enough. Everyone was okay with it.
MW: What role did your brother play in your coming-out experience?
TESSIER: We never really talked about it much. It was just seeing the response people had to him, which was also completely positive in that nobody really bullied him, at least to my knowledge. Seeing that was what made me so comfortable with coming out. Otherwise, I probably wouldn't have known I was gay for a very long time and who knows if I would've come out then.
My parents were much more surprised than my brother was, of course, because they're my parents. But they were definitely very supportive.
MW: It doesn't seem like you were very afraid.
TESSIER: No, I wasn't. Not at all.
MW: When did you start to get involved in the activism aspect of the ban?
TESSIER: That was this year. My mom started working with other troops in our local area against the ban and at some point an Associated Press reporter somehow found out who she was and got her contact information and wanted to run a story on our family. And that's how it began. And then things just kind of snowballed in a very crazy way.
MW: What's that experience been like?
TESSIER: Just unexpected and wild. I wasn't expecting anything to come of an AP reporter coming to my house. I wasn't expecting the story to run in the first place, much less have more reporters come after that. So, honestly, it was quite terrifying.
MW: What's been the reaction from your friends to all this attention?
TESSIER: It's been really supportive, more just, you know, "Good for you, Pascal. I'm glad you're speaking out." My troop is very supportive. Other Scouts have been active with it as well. There's a Scouting Equality patch that's been spreading around that another kid in my troop started handing out to kids in my troop.
Two guys in my troop came out and the reason they did was because of what I was doing. That was scary, just thinking that I had that big of an effect.
MW: That would also feel kind of good, right?
TESSIER: It was definitely both. Both scary and good.
MW: Team DC will also be awarding you this year's Spirit Award in front of an entire stadium.
TESSIER: That's scary.
MW: Is it a little nerve-racking?
TESSIER: Yeah, you could say that. It's exciting. And I've also never been to a Nationals game – not proud to admit it – so that will actually be fun going to a Nats game. But also the idea of being in a stadium and awarded something – awarded anything – is scary to think about.
MW: How did that all come about?
TESSIER: One day after school my mom started talking to me and she mentioned something about [Team DC] and she just kind of told me about it and asked if I was interested, and the answer was automatically "yes" because it's such a cool experience.
MW: When you came into contact with people during your activism who had very different experiences than your own, what kind of perspective did that give?
TESSIER: I had a lot of interactions with people who had come out as gay and been immediately kicked out. And I've heard many more stories about people who have had that experience. It's just tragic to hear, really, that I was lucky when other people weren't at all. I guess it gave me the perspective that this really is an issue, that I'm not just fighting for something that isn't really a problem. It proved to me that this is something worth fighting for.