At first glance, The Way, Way Back seems to hit all the benchmarks of a pleasant indie comedy. It's got the sad-eyed teenage boy who's too meek to find himself, his disinterested love interest, the divorced single mom searching for romantic satisfaction, the asshole stepfather, and the wisecracking man-child. At second glance, The Way, Way Back is… precisely what it seemed to be the first time around. This isn't an entirely disappointing discovery. It is, however, a surprising one.
The duo responsible for this movie, Nat Faxon and Jim Rash, clearly has chops. They wrote the screenplay for The Descendants, a lovely piece of work that's every bit as eloquent, funny and profound as any other comedy in recent memory. The Way, Way Back may mimic the messy humor that makes The Descendants great, but its story is fundamentally thinner. It's simply not as impressive.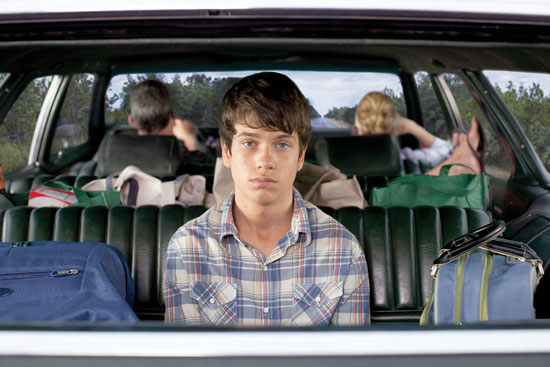 The Way, Way Back
(Photo by Fox Searchlight)
Faxon and Rash begin, to their credit, with a familiar air of familial strife: Duncan (Liam James) is being forced to spend the summer at a beach house with his mother Pam (Toni Collette), her alpha-male boyfriend Trent (Steve Carell), and his obnoxious daughter Steph (Zoe Levin). He doesn't fit in with anybody until an aimless bike ride lands him at Water Wizz, a ho-hum water park managed by Owen (Sam Rockwell) and Caitlyn (Maya Rudolph). Cue the montages as Owen pulls Duncan out of his introverted shell, helps him woo the girl next door (AnnaSophia Robb), and convinces him to finally stand up to Trent.
The story is satisfying, as far as these sort of coming-of-age comedies go. James never quite finds his footing as Duncan, but his saving grace is the cast of adults who surround him — they, not he, seem to be in a much more compelling movie. Allison Janney, who plays a loopy neighbor named Betty, invigorates early scenes just as Faxon and Rash begin to loose their oomph. Rockwell is splendid, as always, finding depth in a character that would've surely been a caricature in less capable hands. (His pairing with Rudolph is a stroke of genius, and my favorite on-screen romance of the year, so far.) Carell plays against type by just being an asshole for once, while Collette's performance hints at precisely the kind of sorrowful tenderness The Way, Way Back misses.
THE WAY, WAY BACK




Starring Liam James, Sam Rockwell, Steve Carell, Toni Collette
Rated PG-13
103 minutes
Opens Friday
Area theaters
Essentially, Faxon and Rash trade those characters' promising stories for the sake of Duncan's own. The result is a much more tepid movie, but nonetheless a fascinating one. We see the world through Duncan's eyes, with adults appearing to act like children, cheating and lying and altogether treating one another without respect. It's a curious inversion, and, at least to me, it rings true to the essence of being a teenager. You're old enough to recognize the bullshit around you, but you're not old enough to know what to do about it.
We rarely look back at our teenage years as a slow and steady period of maturity. No, those years are remembered as a stop-and-go emotional whiplash. The highs are higher and the lows are lower; life as a teen can only seem unbearably boring or incredibly exciting. The moments that don't fit those molds fade into the past, leaving behind a faint impression of the truth. The Way, Way Back glances at this truth — not nearly often enough to pack an emotional wallop, yet certainly often enough to inspire warm sentiment about the journey. It's hard being a teenager, but it's even harder to understand why.