Carly Rae Jepsen is responsible for the song of summer 2012. Maybe you remember it, the one with the unforgettable music video in which, as Jepsen puts it, "The guy that I was pining after ended up preferring my [male] guitarist."
Director Ben Knechtel originally thought Jepsen should create a spinoff video to her peppy song, "Call Me Maybe," one in which presumably the guy calls her number for sure. Instead, they decided on just one video with a surprise gay ending.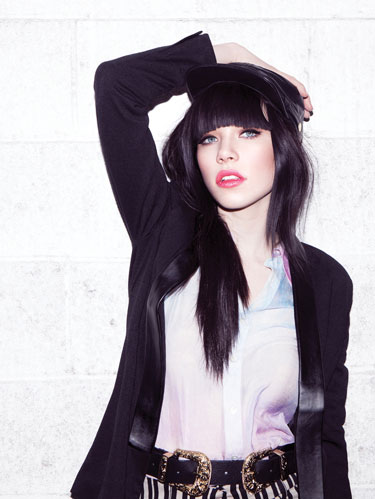 Carly Rae Jepsen
(Photo by Rob Hoffman)
"It is such a huge issue for some people, and it shouldn't be," Jepsen says of homosexuality in general. "It's never been an issue for me. I never grew up with that idea."
The 27-year-old Canadian grew up in Mission, British Columbia — "Small but mighty," she says, "a little bit hippy-ish and very musical." Jepsen knew from age 7 that she wanted to be a singer. She went to a Fame-like performing-arts college to become a Broadway-style performer, but was bitten by the songwriting bug after she moved to Vancouver. It was also in Vancouver that Jepsen met Brandon, "one of my very best friends in the world. We consider each other not just friends but family." Brandon's own family had disowned him after he came out as gay. "His personal story," says Jepsen, "just breaks my heart."
But it was also partly Brandon's story that propelled Jepsen to become a quiet but steady supporter of the LGBT cause. Earlier this year, Jepsen performed at the White Party Palm Springs and then revoked plans to perform at the National Scout Jamboree once she learned of the Boy Scouts of America's policy banning gay leaders. "That policy is actually different in Canada," Jepsen says, referring to Scouts Canada's nondiscrimination policy based on sexual orientation.
Jepsen, who was a runner-up for Canadian Idol in 2007, "is interested in one day pursuing the idea of being involved in a Broadway thing, maybe … writing a Broadway musical." But for now, she's writing songs for a future record, as well as taking time out for "domesticated moments," such as learning how to make banana muffins — "just in case one day I've got to feed somebody," she teases, while adding that her childrearing days are "years from now, far off the way."
Her current focus is on her first-ever headlining tour in support of last year's studio set Kiss, which also features hits "Good Time" and "Tonight I'm Getting Over You." "Kiss was a really fun record to make," she says, "but those songs are meant to be performed live. It's like pure fun pop."
Carly Rae Jepsen performs Wednesday, Aug. 28, at 7 p.m., at 'The Filene Center at Wolf Trap, 1551 Trap Road, Vienna. Tickets are $30 to $42. Call 877-WOLFTRAP or visit wolftrap.org.