Chad Griffin doesn't seem very tired, but it's hard to imagine how he couldn't be. It's been a whirlwind of a year for the 40-year-old, who, having served as president of the Human Rights Campaign since June 2012, has been at the helm of the nation's largest LGBT-rights organization during some of the movement's most monumental victories.
"Who needs sleep?" Griffin laughs, the morning after returning to D.C. after three weeks on the road following the Supreme Court's landmark rulings striking down Section 3 of the Defense of Marriage Act and California's Proposition 8.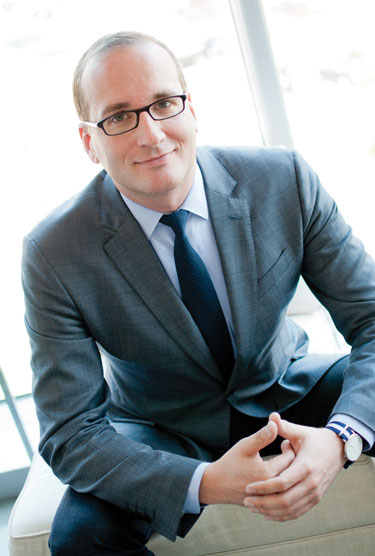 Chad Griffin of HRC
(Photo by Todd Franson)
A political strategist by trade who got his start working in the White House communications office for President Bill Clinton, Griffin has been at the center of the marriage-equality battle for nearly five years. He co-founded the American Foundation for Equal Rights in 2008 to challenge California's ban on same-sex marriage and helped recruit the star legal duo — Ted Olson and David Boies — who took the case all the way to the Supreme Court while many LGBT groups were saying it was too soon.
"It was an incredible journey," Griffin says. "As the Prop. 8 case – and at the same time the Windsor case – rose, the country changed each step as those cases progressed."
Indeed, when the Proposition 8 challenge was filed, only three states permitted same-sex marriage, and dozens more had approved same-sex marriage bans at the ballot box. And as Griffin notes, "The only Republican that anyone could name who supported gay marriage was former Vice President Dick Cheney."
"We now have 13 states and the District of Columbia. Thirty percent of Americans now live in marriage states. And Republicans, not yet enough, but Republicans and undecided Democrats or Democrats on the wrong side have moved tremendously in those four years," Griffin says.
Following watershed victories at the Supreme Court that stopped just short of marriage equality nationwide, Griffin has set monumental goals for his organization, including achieving marriage equality in all 50 states in as much time as it took to restore same-sex couples' right to marry in California — five years.
And Griffin hasn't stopped with marriage equality. As the LGBT-rights movement enters its next chapter, Griffin has elevated his organization's focus on issues such as LGBT workplace protections and appears more determined than ever to take the fight for full equality to areas of the country that lack even the most basic protections.
Fresh off a tour of the South, where Griffin visited his home state of Arkansas, along with Mississippi, Virginia and North Carolina, he has traveled more than 111,000 miles and visited 23 states in his year as HRC president. During an extensive interview with Metro Weekly at HRC's D.C. headquarters, Griffin outlined his strategy for victory, reflected on June's wins and looked to what's next for a movement that has seen public support swing in its favor at an unprecedented rate.
METRO WEEKLY: You were inside the Supreme Court when these decisions came down. What was that like?
CHAD GRIFFIN: Since the day we had our first procedural hearing, I've never not been in the courtroom, even for the most technical of issues being heard pre trial.
It was unlike any experience I've ever had in my life. I don't have the best long-term memory in the world, but I will never forget a single step of that day.
Seated in that courtroom, where silence is enforced, and being ushered in on that final day. From the time I woke up that morning and went and met our plaintiffs at their hotel, to being in the car on the way to the courthouse, to getting out of the car and the chaos that was erupting outside the courtroom — good chaos — but walking in that courtroom and putting your cell phone in the locker.
And going in that courtroom where I was seated next to the four plaintiffs and then clock strikes 10 and those curtains open and the justices rise out of nowhere to their chairs, I went back and forth between holding the edge of the bench to grabbing [Prop. 8 plaintiff] Kris [Perry], who was next to me, her hand.
And then as they read the decisions. As Justice Kennedy started reading that incredible and brilliant decision in the Windsor case, it starts to sink in: the power of this moment and the fact that Justice Kennedy was deciding that case in a way many thought unlikely, and going further than probably most thought he would ever go. Then there was the wait on the Prop. 8 case, which obviously was the final one read by Chief Justice John Roberts. And I hung on to every single word and sentence, because I feared that the next sentence could undermine the previous one.
So I did not have a moment of complete breath until the gavel went down and they stood up and walked out. That was the moment I realized it was actually final and Proposition 8 and DOMA were gone and no one was going to do anything to change that. We really were at the end of the march as it related to those two.
Again, when the gavel goes down, they all descend. You want to scream, you want to jump up and yell and hug, but again complete silence. We stood as we had all six prior days and walked out. It was not until we were all out in the foyer where we were able to be with David [Boies] that everyone hugged and had tears of joy in their eyes. And that's when it starts to really sink in. And I think we were all still in a tiny bit of a haze at that moment. It's just sinking in, we've just heard those two decisions read….
But it wasn't until the third step, outside – because they have that scaffolding outside that the first two steps you're underneath – and then it was the third step that you heard the roar heard round the world as the folks outside realized it was the plaintiffs and David. It was unlike anything any of us had experienced in our entire lives.
But what was also front of mind to me, and I had two sentences of celebration at the press event and then everything else that I said was focused on the 37 states that didn't feel the reach of justice by those decisions. And every single thing I've done since that day has been to focus the spotlight. The spotlight has been on two cases for four and a half years and I think our job is to immediately turn that spotlight on the 37 states that still don't have not only marriage equality, but – many of those states – even the most basic of protections, where you can still be fired for being LGBT, where it's illegal for an LGBT person to adopt a child. That is where our work is.
And I had said to our team repeatedly that we celebrate that day, but the very next day we roll up our sleeves and we get to work for all those folks who were only able — it was absolutely a joyous moment and hopeful moment and brought tears to the eyes of thousands who lived everywhere in between the coasts – to watch folks celebrate in the streets of California or New York with Edie [Windsor] or that weekend when marriages had begun, but their lives didn't change. Perhaps they're more hopeful because of those two decisions and it's very clear that there is a path to achieving full equality everywhere for everyone in all 50 states.
But that day was incredible. From the phone call from the president, which was right after our press event, where again he congratulated us, thanked me and our team for the courage we had to file and then I immediately said the same thing to him — "While we're celebrating, Mr. President, we have to remember there's 37 states that still don't have equality." It was important to me then and it will remain important for us to remind everyone that we still have the rest of the country.
MW: Were you at all disappointed that the justices didn't address the broader questions of the Prop. 8 case?
GRIFFIN: It's hard to be disappointed when the two symbols of discrimination in this country were erased by the highest court in the land. Would I have preferred a sweeping decision that gave marriage equality to all 50 states, as Judge Walker's decision would have? Absolutely. Is it clear because of those two cases someday we're getting that ruling? Absolutely.
You know, having Justice Kennedy write the opinion in the DOMA case that he wrote, it lays out the legal roadmap for our future. It took our case four and a half years from the day we announced it till it was fully decided. So there's going to be some number of years before that next case gets to the United States Supreme Court, whenever they grant cert. What we have to ensure is in those years we move the ball forward as aggressively as we can in all parts of this country. Anywhere we can advance equality, whether it's marriage equality, whether it's statewide employment protections, whether it's anti-bullying laws, whether it's changing some of the adoption laws in the South, we've got to move the ball forward to improve the lives of folks everywhere we can – and perhaps more aggressively in certain parts of the country than we ever have before, including the places where I just came from, where I grew up.
MW: When you exited the Supreme Court you set a goal for marriage equality in all 50 states in five years. Some people have said that's unrealistic.
GRIFFIN: They said the same when I filed the Prop. 8 case.