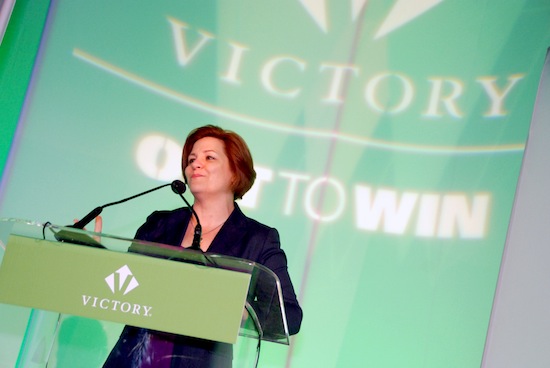 With Anthony Weiner's chances of becoming the next mayor of New York City rapidly slipping from slim to none, out New York City Council Speaker Christine Quinn has regained her position as frontrunner for the Democratic nomination.
According to the latest Quinnipiac University poll, in one week Weiner has dropped from first to fourth place among likely Democratic primary voters in the New York City mayoral race following the latest revelations that the disgraced former congressman continued to send lewd messages and photos to women online even after his resignation from Congress for the same reasons in 2011.
With Weiner's support standing at 16 percent, compared to 26 percent a week ago, the poll found 53 percent of likely Democratic primary voters believe Weiner should drop out. Quinn now leads the Democratic pack with 27 percent.
"With six weeks to go, anything can happen, but it looks like former Congressman Anthony Weiner may have sexted himself right out of the race for New York City mayor," said Maurice Carroll, director of the Quinnipiac University Polling Institute, in a statement.
"And with Wiener in free-fall," Carroll added — and with Quinn in the lead, 21 percent support for public advocate Bill de Blasio and 20 percent support for former comptroller William Thompson — "it begins to look like a three-way race again."
Despite widespread calls for Weiner to drop out of the race, he has vowed to stay in, and promised that his past behavior is behind him. Nevertheless, with the Democratic primary scheduled for Sept. 10, it appears Weiner's chances of a political comeback have vanished. That's good news for Quinn, who saw her lead diminish after Weiner shook up the mayor's race earlier this summer.
"I think it's become very clear that former Congressmember Weiner has a pattern of reckless behavior, an inability to tell the truth, and a real lack of maturity and responsibility," Quinn said during a Sunday appearance on Meet the Press. "I don't think he should be mayor, and I think voters, if he stays in the race, will make that very clear."
Despite Weiner's downfall and Quinn's lead, the race is far from over. Election laws in New York allow a runoff election if no primary candidate receives 40 percent of the vote. Although Quinn would overwhelming defeat Weiner in a runoff 60 to 33 percent, the latest Quinnipiac poll has her losing to Thompson 50 to 40 percent.
"Obviously the goal now is for Speaker Quinn to emerge as one of the top two candidates who will compete in the likely runoff election for the Democratic primary," said Denis Dison, vice president of communications for the Gay & Lesbian Victory Fund, which endorsed Quinn in January before she had formally announced her candidacy. "The runoff is going to be a very tough race no matter who makes it in."
The first female and first out speaker of the New York City Council, New York City would become the largest municipality to ever be led by an out mayor if Quinn is elected.
"Six weeks is an eternity in politics," Dison said, "but we feel confident that when voters begin to focus on the candidates' records, their experience and ideas, it will become clear that Speaker Quinn is the candidate with the most to offer New York City."
[Photo: Christine Quinn. Credit: Ward Morrison/Metro Weekly.]