In puppy style, Axel just wants to play and have fun. The Portland, Ore.-born Richmond resident is three years into the "puppy play" fetish/kink scene, where enthusiasts mimic the actions and mannerisms of dogs. After being named International Puppy 2013 last November in Tampa, Axel spends a lot of time traveling and hosting demonstrations and fundraisers for the pup community or charitable organizations, whether for HIV/AIDS groups or dog-related humane societies. Describing himself as a "complete omega bottom pup," Axel enjoys "puppy moshes" where the puppies, under the watchful eyes of their masters, frolic. But he also explains that puppy play serves as a form of meditation, where he can get into a specific "head space" and release the pressure and anxieties of life and just live in the moment. "It's about freedom of expression," he explains. "If it's not hurting anybody, what's the problem?"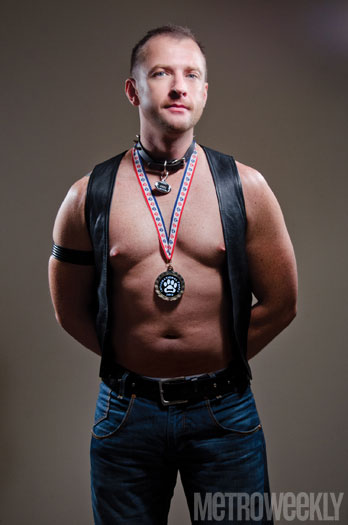 Coverboy: Axel
(Photo by Julian Vankim)
What's on your nightstand?
My three squeaky toys and a lamp. Toys help dogs overcome anxiety, so I just keep them there.
What's in your nightstand drawer?
Socks and underwear.
Where do you keep the condoms and lube?
In my massive leather gear bag, with my bandanas, gags and other toys. That way I can take it all with me.
What are your television favorites?
RuPaul's Drag Race. I'm a Sharon Needles and Alaska Thunderfuck fan.
What was your favorite cartoon when you were a kid?
Bugs Bunny. Slapstick violence. I pick up a lot of my puppy behavior from cartoons, like Scooby Doo and other dog characters.
Who's your greatest influence?
As a pup, it would be the dog I grew up with, Rocky, who was an Alaskan Eskimo. As a person, it would be a composer of some type, because I like to write music.
What type of music do you write?
I can write any type of music. I have an album coming out with Naxos in September. I'm trying to figure out a way to synchronize pup stuff and performance art, be the first pup performance artist.