Grab your passport and your suitcase, because Daly is on the move. The 26-year-old was born in Germany, but started his migration at 5, living in various places across the United States. Now in Logan Circle, this server and bartender loves to visit museums, dance, and sing at open-mike nights at Busboys & Poets. But Daly won't have much time for performing this summer, as he plans on traveling. Although he generally doesn't go out, you might catch him on one of his nights off at Cobalt, Aqua Ultra Lounge, JR.'s or Stoney's.
What's on your nightstand?
Random vitamin pills, cologne, pocket change.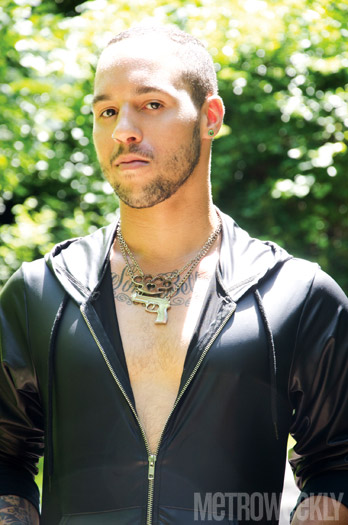 Coverboy: Daly
(Photo by Julian Vankim)
What's in your nightstand drawer?
Bills.
Where do you keep the condoms and lube?
Within arm's reach.
What are your television favorites?
Scandal and Veep. My roommate is trying to get me hooked on Game of Thrones.
What was your favorite cartoon when you were a kid?
Rugrats and The Simpsons.
Who's your greatest influence?
My mother. She really set herself apart from her family. She was the only person to go into the military. She's been in war, she's traveled the world. She's the first person to marry someone who's not Jamaican. She was a single mom most of my life, and one of my biggest supporters.
What's your greatest fear?
Dying without influencing or inspiring somebody through my music.