The summer is in full swing, arms are exposed, shirts are off, and shorts are riding low. The cutting months, getting to that perfect beach body, are over. It is finally time to start maneuvering your body to add lean body mass.
The transition, though, can be just as confusing as the cutting phase. How much do I eat? When do I eat it? What kind of foods do I eat?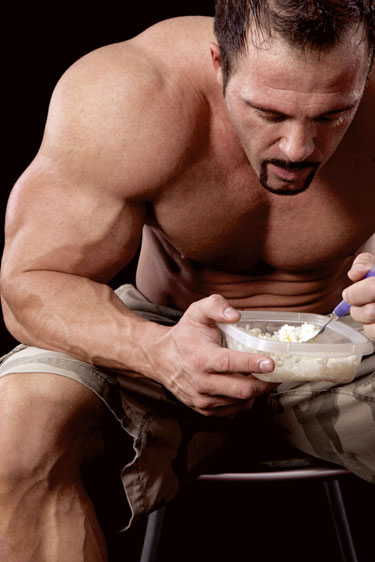 Pushing your body to start gaining weight seems like it would be an easy task, but after months of controlling your diet, what you consume, simply throwing food into your mouth can be both mentally and physically detrimental.
The first step to getting into that state of mind is simply preparing yourself to consume more food. My favorite strategy is to introduce more meals, slowly. Skipping breakfast was the go-to strategy to begin cutting, so adding that meal into my daily habit is the logical solution. Start with something small: a few eggs and bacon, or oatmeal and fruit.
The most important thing to remember when transitioning into a caloric surplus is not to do it feet first. Being calorically restricted for a long period of time conditions your body to operate in an extremely efficient manner, using almost all the food you consume as energy expenditure. Going straight to a large surplus in consumption, especially if it's heavy on carbohydrates, will send your body into a fat storing state of shock.
You have to begin by slowly introducing calories and maintain your current weight. As you eat at that maintenance level for a few weeks during the end of summer, your body will slowly start operating at a much more reasonable level, using much of what you consume to repair and build your muscles. On top of that, you will see increases in sex drive, energy and overall mood.
After you hit a normalized state, it's time to start putting even more into your diet. The easiest method, though I've already warned about it briefly, is adding in carbohydrates. Bread is a wonder food for bulking: You can eat plenty of it without getting full. Once you manage to eat enough to satisfy your hunger, because of the blood-sugar spikes associated with those many carbs, the fullness will not last long.
Another solution, and my favorite, is sugar. You've been eating nothing but lean protein and vegetables all summer long, it is time to indulge a little. Bulking is the time to eat ice cream, brownies, cookies and cakes.
Of course, more protein – think chicken and turkey – and vegetables are ideal, even when bulking. Getting your extra calories from something as digestible and blood-sugar moderating as protein and fiber goes a long way in keeping your fat gains during the offseason to a minimum. That minimum fat gain is ideal for every situation regarding your body.
So, as the summer months begin winding down into August and September, prepare yourself for the enjoyment that is over-eating. Keep things in moderation, especially the breads and sweets, and eliminate any unnecessary cardio work. Make sure your protein intake stays at acceptable levels. Do not forget to train harder; you will begin cultivating the mass that is going to make others take notice. Finally, do not be afraid to have a pair of "fat pants," because to put on that muscle, you're going to have to gain a little weight.