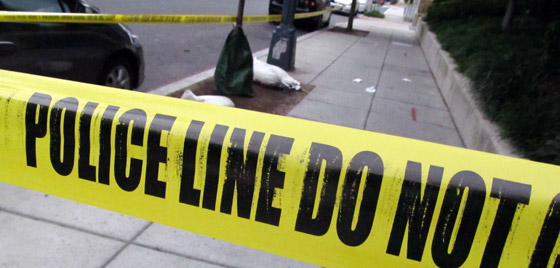 D.C.'s summer of 2013 is off to a tragic start, with these first days since the season began June 21 seeing attacks against six members of the LGBT community, one fatal.
The first attack occurred June 21 around 1 a.m. in the 3000 block of Stanton Road SE. A transgender woman was stabbed anywhere from 35 to 40 times, suffering injuries to her back, hands and chest, including a punctured lung.
According to a friend of the victim who gave her name as Tammy during a June 28 community meeting addressing recent anti-LGBT violence, the victim told her that the suspect had asked to meet her in an abandoned house. After a passerby asked what the man was doing with the victim, who the passerby allegedly referred to as a "faggy," the man attacked the victim and then fled.
The victim attempted to return to her home, at which time responding officers arrived. The victim was transported to Prince George's Hospital Center in Cheverly, Md., where she was listed as in serious but stable condition. On June 27, the victim wrote on her Facebook page that she had been released from the hospital, one day after MPD announced the arrest of its chief suspect in the case, 23-year-old Michael McBride, who has been charged with assault with intent to kill.
The second attack occurred a day after the stabbing, around 2 a.m., in the 1300 block of Stevens Road SE. MPD officers responded to a report of a shooting and found a woman suffering from multiple gunshot wounds. Paramedics transported the victim to a local hospital, where she died of her injuries. MPD has identified her as 35-year-old Malika Stover of Southeast D.C. According to local transgender activist Earline Budd, Stover identified as a lesbian. The homicide remains under investigation.
Around 2 a.m., June 23, inside a Manny & Olga's restaurant on 14th Street NW, a gay man, Miles DeNiro, who had just finished performing as his drag persona and was still in costume, was beaten and dragged across the floor of the restaurant by two women. A video of the assault went viral via WorldStarHipHop.com. While DeNiro filed a complaint against the two women, they also filed a complaint against DeNiro. MPD confirmed at the June 28 meeting that arrest warrants had been issued for the two women.
On June 27, a transgender woman was in the 500 block of Eastern Avenue NE around 6 a.m. when she was approached by two males. One of the men assaulted her, prompting her to flee, at which point she was shot. The victim was taken to a local hospital where she was treated for her injury. According to MPD, the two suspects in that shooting fled the scene in a gray, four-door sedan, with the front driver's side hubcap missing. The first male is described as a black, 5'10" with a dark complexion; and the second is described as heavyset, black, 6-feet tall, with a medium-brown complexion. MPD has posted surveillance video that may help identify the suspects.
On June 29, at 3:30 a.m. a transgender woman was walking in the 300 block of 61st Street NE, when she accepted a ride from an unknown male. Once inside the vehicle, she was sexually assaulted.
The suspect in that case is described as a 30- to 35-year-old male with a stocky build, light complexion, mustache, driving a dark gray Toyota Corolla with Maryland tags. The case remains under investigation.
Half an hour later, at 4 a.m., on the other side of the Anacostia River, a transgender woman was approached by two adult males while walking in the area around 5th and K Streets NE. The men attempted to rob her and one of them shot her. The victim was transported to a local hospital where she was treated for non-life-threatening injuries.
The two suspects are described as a 19- to 20-year-old male with a light complexion, dreadlocks, wearing a white shirt, blue jeans and a red jacked tied around his waist; and a black male with a dark complexion.
Anyone with information in any of these cases is asked to call Police at 202-727-9099. Information can also be submitted to the Text Tip Line by text-messaging 50411.
MPD offers a reward of up to $1,000 to anyone who provides information leading to an arrest or conviction of the people responsible. MPD also offers up to $10,000 for those who provide information related to a robbery, and up to $25,000 to anyone who provides information related to a homicide.
[EDITOR'S NOTE: As originally posted July 1, Malika Stover was incorrectly identified as a transgender woman, rather than as a lesbian.]