The DC Trans Coalition (DCTC) on Saturday released the results of its 2011-2012 D.C. Trans Needs Assessment, showing that transgender D.C.-area residents are often at risk for harassment or discrimination; struggle with HIV and other health risks and homelessness; and are often underemployed or work in some form of an "underground economy," particularly transgender people of color.
The survey effort, led by principal investigators Elijah Edelman and Elena Lumby, was based on concerns expressed at 10 discussion sessions with separate groups of transgender people. Questions from national surveys, such as one from the National Center for Transgender Equality (NCTE), were added to the final survey.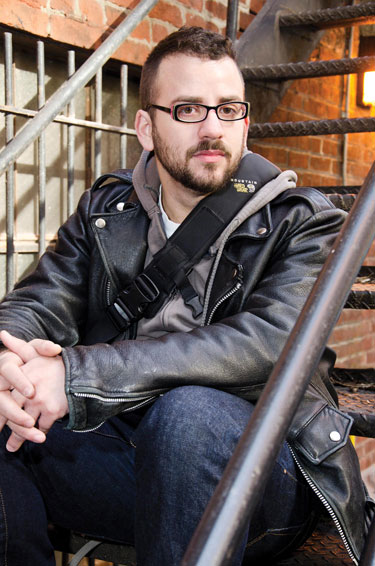 Elijah Edelman
(Photo by Julian Vankim)
The survey was administered to 624 people and offered in both English and Spanish. Of the respondents, 404 identified themselves as District residents. The money to fund the survey and pay those administering it – all transgender people of color – was raised by local transgender activists through fundraisers, private donations solicited from D.C. residents, and grants written by Edelman and local transgender activist and founder of Casa Ruby, Ruby Corado.
Of the 404 D.C. residents expressing some gender non-conformity, 62 percent identified as belonging to the female spectrum in some way, and 38 percent identified as belonging to the male spectrum. Seventy percent of D.C. respondents were people of color.
Among the more disturbing findings, four out of five respondents reported suffering verbal, physical or sexual assault; 20 percent said they had been denied medical care; and 45 percent said they had been discriminated against at work. One in three said they were HIV-positive. One-quarter of all respondents were homeless when they were surveyed. Forty percent said they had experienced homelessness because of discrimination, and 34 percent said they had engaged in sex for shelter, but not specifically as paid sex workers.
Access to trans-sensitive health care appeared as the top priority for respondents, followed by employment discrimination, a need for job-training programs, and affordable housing.
Survey respondents had relatively high educational levels, with 59 percent saying they had completed either technical school, some college, an associate's degree, bachelor's degree or higher. Yet only 50 percent of transgender respondents said they were employed, and 34 percent said they were working in an "underground economy," which could include anything from babysitting to working in the beauty industry without a license.
Forty-one percent of respondents said they had at some point worked in the sex industry, including 63 percent of those on the feminine spectrum. Of those who had ever engaged in sex work, 72 percent reported being physically assaulted.
More than half of all respondents said they had interacted with police. But 55 percent of the overall sample of D.C. residents said they felt uncomfortable talking to the police. Of those who did interact with police, one-third said they were treated disrespectfully, two in five said they were referred to by the wrong name or pronoun, another third said they were harassed and 16 and 6 percent, respectively, said they were physically or sexually assaulted by an officer. And 46 percent said they had been treated with respect by police officers. Among those experiencing some form of harassment or assault, rates among people of color were two- to three-times higher than white respondents.
Activists are hoping they will be able to use this information to advocate on behalf of more services or resources for transgender people, lobby politicians for specific legislative action, or push police and law enforcement to adopt better policies for dealing with the transgender community, such as sensitivity training.
"This is in some ways what we really needed," Edelman said of the survey. "We've been going to the City Council for years, sometimes for decades, saying, 'This is an issue, this is an issue, this is an issue,' and all we get back from them is, 'I don't see any issues.' We actually have data here, we have substantial data. This is one of the biggest, if not the biggest, city-based, trans-needs assessments. If 33 percent of the trans community is suffering from HIV/AIDS, that's something that the City Council can't turn a blind eye to."
[EDITOR'S NOTE: As originally posted, this story credited Elena Lumby as crafting the survey with Elijah Edelman, due to an editor's error. While Edelman and others crafted the survey, Lumby provided data analysis.]