Over the past 15 years, D.C.'s restaurant scene has grown by leaps and bounds — in number, in quality, in variety. The bar scene has really perked up too. But one "eclectic, vibrant" venue still has bragging rights as "the place you go to eat and be seen, to network, to spot a local gay celebrity or two."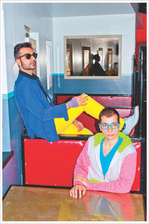 Those were the words Metro Weekly used to describe the 18th and U Duplex Diner in a 2004 cover feature. That was nearly six years after Eric Hirshfield's hot spot had worked to revitalize its previously neglected corner on the outskirts of Dupont Circle and Adams Morgan.
Tonight, July 12, the Diner celebrates 15 years in business as a leading destination for gay locals and tourists alike. The institution, now owned by Kevin Lee, is throwing a birthday party with a theme going even further back in time. The occasion brings a special edition of Khelan Bhatia and Adam Koussari-Amin's popular '80s-themed party BreakfastClub. If they throw a 16th party next year, the BreakfastClub will just have to go with a theme built around the '80s movie classic Sixteen Candles. But tonight, the theme is another '80s movie classic — Pretty in Pink. Those dressed for the occasion — in pink, in formal attire or even just "your birthday suit," according to the Facebook flyer — can get snapped for prom-style photos by David Claypool. There will also be performances by drag act Birdie la Cage and the "Chirpendales" dancers, plus surprises and drink specials.
Whatever you do, don't forget to pop into the bathroom that doubles as a Madonna shrine. The '80s, after all, was, like, totally her decade.