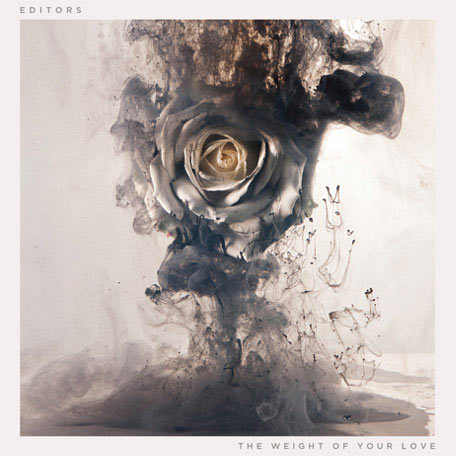 British post-punk revivalists Editors return this week with their 4th album, "The Weight of Your Love," and it's a doozy. Despite having released three critically acclaimed albums that have been massively successful in the UK and parts of Europe, Editors still haven't broken through in a big way in America. "The Weight of Your Love" might be the album to change that. It has a far more expansive sound and feel than their prior albums, with soaring hooks and driving rockers that seem specifically designed for an American breakthrough.
Editors appeared on the scene at a time when new wave and post-punk revivalism was popping up all over the place with bands like Interpol, The Killers, Bloc Party, Franz Ferdinand and a host of others. Their debut album, 2005's "The Back Room," was a critical and commercial success and was nominated for the prestigious 2006 Mercury Prize. Not bad for a debut album. It was a powerful mix of great songwriting, edgy guitars and Tom Smith's distinct and sometimes manic baritone vocals. The album echoed influential post-punk bands like The Sound, Wire, The Chameleons and Joy Division, but with a modern sound and a keen sense of melody. Several tracks became sizable hits in the UK, including "Bullets," "Munich" and "Blood."
They followed with the denser, heavier sound of "An End Has a Start" in 2007 which was another major success overseas, featuring hits like "Smokers Outside of Hospital Rooms" and "Racing Rats." It hit #1 on the UK album charts and firmly established Editors as one of the best rock bands to emerge in the past decade. In 2009 came another UK #1 album, the more experimental "In This Light and On This Evening." It was a departure for the band – a dark, brooding album that featured much more prominent electronic elements and a much more despondent tone. It mirrored the progress of several post-punk bands of the late 70s and early 80s who started as primarily guitar-rock bands but then embraced synthesizers as the new wave scene exploded. "In This Light and On This Evening" is Editors' "new wave" album lead by the booming synths of epic first single "Papillon" (which became a #1 single in Belgium).
Four long years have passed since Editors' last studio album, but they've kept busy. In 2011 they released a massively ambitious box set called "Unedited" that included all of their albums (and two compilation albums comprising their many stellar b-sides) on both vinyl and CD. Members also kept busy with a variety of side-projects and guest appearances. There was also a major line-up change – lead guitarist Chris Urbanowicz departed and new members Justin Lockey and Elliott Williams were added. It seems the time off and change in personnel has been good for them. "The Weight of Your Love" has a far more expansive sound than the claustrophobic dark electronic experiments on their last album. It's another change in direction for a band that has made clear they won't stand for lazily repeating themselves. The sound is reminiscent at times of Echo and the Bunnymen, Simple Minds or even epic U2 tracks like "City of Blinding Lights."
First single "A Ton of Love" is a soaring arena-rock track that finds Tom Smith stretching his range and expanding as a vocalist. It still retains that nostalgic vibe – it wouldn't be out of place on something from the mid-80s – but also bursts with fresh energy. Live performances of this track will be epic. There are other great moments as well. "Sugar" is a bit of a darker vibe with an edgy groove, a typically intense vocal from Tom Smith and a seductive hook that sticks in your head ("it breaks my heart to love you… it breaks my heart to love you.") Stylistically it's probably the closest thing to "The Back Room" period on the album. They'd be wise to consider it as the 2nd single.
Another high point is the emotional ballad "What is This Thing Called Love," which features Tom Smith singing the lovely melody in his higher register. The growth of the band as a whole, and of Smith as a vocalist, is evident throughout the album. There are moments of darker, more Cure or Joy Division-like material as well – things like the brooding "Two Hearted Spider" and the stripped down opening track "The Weight."
Overall "The Weight of Your Love" is a great listen, and it stands up nicely as a progression from the band's first three albums – not an easy feat, given how excellent they all are. Hopefully with this album, with its more accessible sound, the band will earn broader success beyond their home UK. Editors deserve to be mentioned alongside groups like Arcade Fire, The National, Black Keys, MGMT and a handful of others as one of the best to emerge this decade, and "The Weight of Your Love" should solidify and expand their fan base. It's a great rock album and another outstanding achievement by one of the best bands recording and touring today.