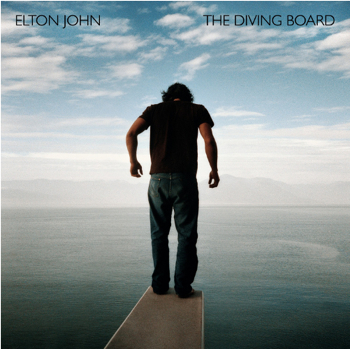 Sir Elton John is an indisputable musical legend. His first album, "Empty Sky," was released in 1969 and his latest – "The Diving Board," his 30th – is due to be released in September. The 66-year old icon just released the first single from the project, the lovely piano-driven "Home Again."
With a new album on the horizon, it seems a good time to look back and re-examine some of the finest moments from his extraordinary career. Dozens of songs could have made this list. I've tried to select tracks that span his entire catalog, from his first major hit, to a stunning track released at the dawn of the new century.
This would be my "Essential" Elton John playlist. What would you have included in yours? Post your favorites to the comments section below.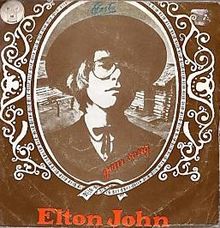 1. "Your Song"
"Elton John", 1970. US #8, UK #7
"Your Song" was Elton's breakthrough single. Well, sorta. In fact, "Take Me To the Pilot," another classic tune, was originally the single from Elton's self-titled second album, and "Your Song" was the b-side – but DJs quickly started playing the gorgeous ballad and it eventually landed in the Top 10 in both the US and UK. Beautifully produced by Gus Dudgeon and adorned by Paul Buckmaster's string arrangement, it's a track that helped usher in the 70s. An essential classic that is still widely played all these years later.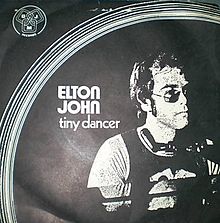 2. "Tiny Dancer"
"Madman Across the Water", 1972. US #41
It's hard to fathom that a song like "Tiny Dancer" – now universally regarded as a classic– failed to make the Top 40 upon its release, but it's true. A sweeping, nearly 6-minute epic, once again featuring Paul Buckmaster's prominent string arrangement, "Tiny Dancer" will forever be remembered by some for its use in the 2000 Cameron Crowe film "Almost Famous."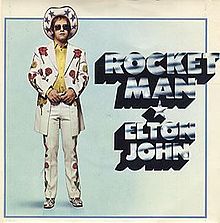 3. "Rocket Man"
"Honky Chateau", 1972. US #6, UK #2
Produced by Gus Dudgeon and engineered by the legendaey Ken Scott, "Honky Chateau" is widely regarded as one of Elton's finest albums. In addition to the smash "Honky Cat" it includes the all-time classic "Rocket Man." With its somewhat enigmatic lyrics (some have speculated it's about a gay man leaving his family after coming out of the closet, or perhaps a drug addict – or is it simply about an astronaut?) and Elton's beautiful vocal, it became one of his signature songs and has been covered by numerous other artists – perhaps most memorably by Kate Bush on the "Two Rooms" tribute album in the early 90s.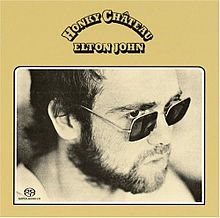 4. "Mona Lisas & Mad Hatters"
"Honky Chateau", 1972
Another track from "Honky Chateau," this ode to New York City is one of Bernie Taupin's finest lyrics and Elton did it justice with a heartfelt vocal. A fan favorite despite never having been released as a single, Elton himself has called it one of his favorite tracks. He performed a poignant version at the Concert for New York in the wake of the 9/11 tragedy. Colored by Davey Johnstone's exquisite mandolin, and Elton's expressive double-tracked vocal performance, it's one of his greatest single achievements.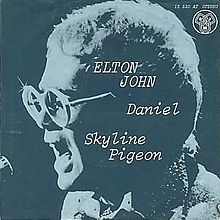 5. "Daniel"
"Don't Shoot Me I'm Only The Piano Player", 1973. US #2, UK #4
Elton was fresh off his first American #1 with "Crocodile Rock" when "Daniel" was released in early '73 as its follow-up. The track nearly followed its predecessor to the top of the charts, falling one position short. With its easy shuffling rhythm, Elton's electric piano and Ken Scott's iconic synth solo, "Daniel" is remarkable both as a recording and as a composition. Written about a man trying to cope with returning home from the Vietnam War and trying to live a normal life, but struggling to overcome the trauma he experienced, the song was timely and powerful.
6. "Skyline Pigeon" (piano version)
B-side to "Daniel" single, 1973
This powerful track was originally recorded in a much inferior version with a harpsichord accompaniment on Elton's debut album "Empty Sky." It was revisited during the sessions for "Don't Shoot Me I'm Only the Piano Player" and landed as the b-side to the single "Daniel". One of the most poignant songs of his career, Elton would memorably perform it 17 years later at the funeral of the young AIDS victim Ryan White, with whom he had become close. It's a chill-inducing song of pure beauty – undeniably sad, but uplifting. "I want to hear the pealing bells of distant churches sing… but most of all please free me from this aching metal ring, and open out this cage towards the sun…"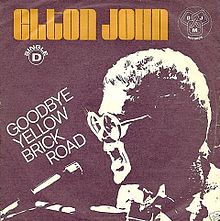 7. "Goodbye Yellow Brick Road"
"Goodbye Yellow Brick Road," 1973. US #2, UK #6
With its trademark falsetto chorus and storyline about a young man from the country trying his fortunes in the big city, "Goodbye Yellow Brick Road" is one of Elton's most famous songs. The title track of the ambitious double-album that launched it, "Goodbye Yellow Brick Road" is a pop standard that sounds as beautiful and wistful today as it did when it was first issued nearly 40 years ago. A story of idealistic dreams crashing into the roadblocks of harsh realities – a tale that's been lived and relived by so many of us.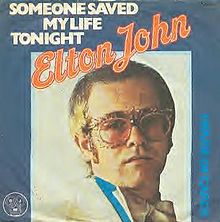 8. "Someone Saved My Life Tonight"
"Captain Fantastic and the Brown Dirt Cowboy", 1975. US #4, UK#22
One of Elton's career pinnacles, "Someone Saved My Life Tonight," clocking in at nearly 7 minutes, is one of the longest tracks ever to make the US Top 5. About a man being "rescued" at the last minute before his marriage, the song is actually a bit nasty… "You almost had your hooks in me… didn't you dear? You nearly had me roped and tied." Nice. One wonders what the other side of the story might be. One of Gus Dudgeon's glossiest, most epic productions, "Someone Saved My Life Tonight" is extraordinary both as a composition and a recording. It would end up being the only single taken from "Captain Fantastic and the Brown Dirt Cowboy," generally regarded as one of Elton's strongest albums.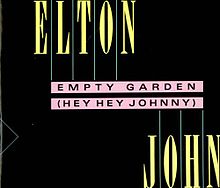 9. "Empty Garden (Hey Hey Johnny)"
"Jump Up!", 1982. US #13, UK #51
Elton's career floundered through some ups and downs during the late 70s and early 80s, but he got back on track to a degree in 1982 with the "Jump Up!" album, the ballad "Blue Eyes," and its follow-up, the powerhouse tribute to the late John Lennon, "Empty Garden." Elton was friends with Lennon, had collaborated with him on Lennon's #1 single "Whatever Gets You Through the Night" in the 70s, and also had a massive hit with his cover of "Lucy in the Sky With Diamonds." "Empty Garden" is a heartfelt tribute; slightly maudlin and sentimental, yes – but composed and performed with real emotion and feeling. A worthy tribute.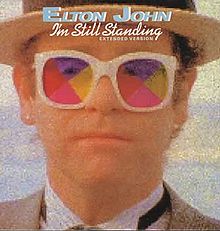 10. "I'm Still Standing"
"Too Low For Zero", 1983. US #12, UK #4
Elton's career hit full stride again with his 1983 album "Too Low For Zero" which introduced him to the MTV generation with first single "I'm Still Standing" (also one of the most homoerotic videos to come out of the early MTV years, and one that I found quite fascinating for obvious reasons). A defiant rocker that Bernie Taupin wrote about coming out of the wreckage of a relationship, it could just as easily have been about Elton's career. "Too Low For Zero" was Elton's best album of the 80s by a wide margin, and would launch several hits in the US and the UK.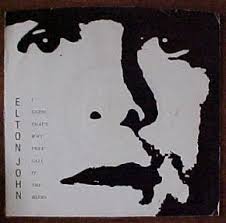 11. "I Guess That's Why They Call It The Blues"
"Too Low For Zero", 1983. US #4, UK #5
Elton's soulful ballad, featuring Stevie Wonder on a memorable harmonica solo, became the 3rd major hit from "Too Low For Zero." A romantic ballad about the trials of living apart from a loved one, the video earned heavy rotation on MTV and saturated the radio waves during the late summer of 1983. It would be many years before Elton would again record something of this timeless quality.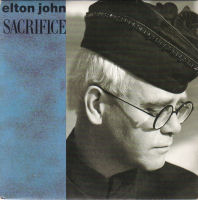 12. "Sacrifice"
"Sleeping With The Past", 1989. US #18, UK #1
It took him 20 years, but Elton finally scored a solo #1 in his native UK with the gorgeous ballad "Sacrifice" (although he did reach the top in 1976 with his duet with Kiki Dee, "Don't You Go Breakin' My Heart). "Sleeping with the Past" was a something of a return to form for Elton. After "Too Low for Zero," Elton lost his way for most of the rest of the 80s. Beset by drug problems, he managed to score a handful of hits ("Sad Songs," "I Don't Wanna Go On With You Like That," "Nikita"), but his albums ranged from patchy at best to downright comically dreadful (arguably his career nadir came with the "Leather Jackets" album in 1986.) First single "Healing Hands" was great in its own right, but "Sacrifice" was simply sublime. Sinead O'Connor would record a lovely, haunting cover version a few years later that is worth seeking out.

13. "The Last Song"
"The One", 1992. US # 23, UK #21
Elton and Bernie's incredibly powerful song about a young man with AIDS was released at the height of the epidemic. Filled with powerful imagery of a death-bed reconciliation between a father and his dying son, "The Last Song" is an extraordinary recording that captures a moment of beauty and love amongst an unspeakable pain with incredible grace. "I can't believe you love me. I never thought you'd come. I guess I misjudged love between a father and his son." Still brings chills, 21 years later.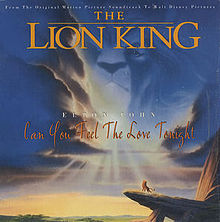 14. "Can You Feel The Love Tonight?"
"The Lion King" Soundtrack, 1994. US #4, UK #14
Elton enjoyed some of the greatest success of his career in the 90s with this instant classic from Disney's epic animated feature "The Lion King." A bit syrupy (it IS Disney, after all), but undeniably beautiful, and one of Elton's finest vocals. Elton had to deliver a classic to be the theme to such a tremendous film, and he pulled it off brilliantly.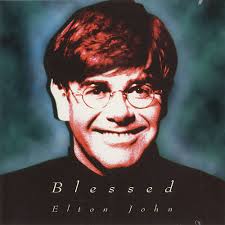 15. "Blessed"
"Believe", 1995. US #34
Elton's "Believe" album in 1995 continued his run of success, and it featured one of his most underrated singles, the lovely "Blessed." It was not a major hit (and was passed over as a single in the UK in favor of the album track "Please"), but it's a song I must have played dozens of times upon its release. A personal favorite.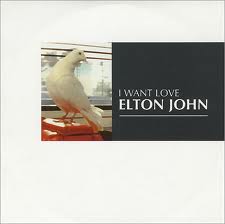 16. "I Want Love"
"Songs From The West Coast", 2001. UK #9, US A.C. #6
Elton's 2001 album "Songs From the West Coast" received some of his strongest reviews in years. A stripped down collection with excellent songwriting, it was highlighted by the stunning first single "I Want Love." A memorable video starring Robert Downey, Jr. helped propel the track into the Top 10 of the US Adult Contemporary charts. It was ample proof that Elton John still had much to offer as an artist, and – 12 years later, as we await his next album – we'll see if that is still the case. I suspect it will be.
Of course, these 16 tracks are really just a small sampling of Elton John's incredible legacy of pop genius. In the comments section below, feel free to post which song you would have added to this list, and why. And then we'll wait until September when his newest album, "The Diving Board," is released to see if any of his newest material can be added to his long list of classic tunes.