"I'm trying to make it good fortune and not bad fortune," Emily Fortune Feimster teases about the family name that she uses as her first name. "So far so good, I think."
In fact, Feimster, one of the funniest members of E!'s Chelsea Lately comedian family, repeatedly refers to herself as lucky. A native of Belmont, N.C., Feimster has been out as a lesbian from her very first TV appearance, as a contestant on NBC's Last Comic Standing in 2010.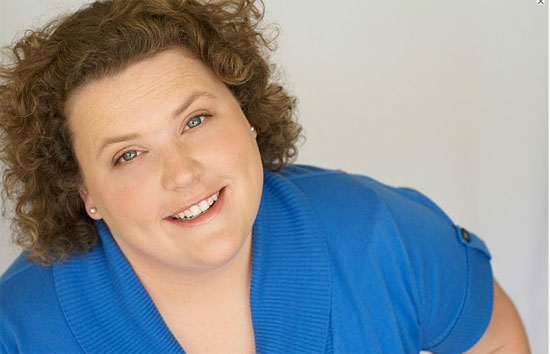 Emily Fortune Feimster
(Photo via fortunefeimster.com)
"I'm really lucky that people like Ellen [DeGeneres] and other gay comedians really did make it easier for me and my generation," she says. Thanks to these LGBT comic pioneers, Feimster is able to talk about her sexuality, even joke about female celebrities she'd like to sleep with, without having to hold back or fear anti-gay backlash.
Of course it also helps that she works for the frank Chelsea Handler.
"If there's anything about you, anything that happened to you that's embarrassing, she's going to be the first person to talk about it on TV," says Feimster, who serves as a fulltime writer and a regular roundtable panelist for Handler's Chelsea Lately, where she also often appears in comedic sketches. "They keep me pretty busy, putting me in little tiny outfits." Feimster has no qualms about the regular ribbing she gets on the show for her physical appearance of wild, frizzy hair, a plus-sized figure and general laidback look. "I've always had a good sense of humor, and I've never taken myself too seriously, so I don't mind acting or looking ridiculous."
Feimster's healthy self-deprecating self-confidence is further boosted by the all-around support she gets from her family back home. "My mom has actually become vice president of PFLAG in my hometown," she marvels. "She's just like waving a rainbow flag even higher than me sometimes. I'm really lucky."
Fortune Feimster performs Friday, July 12, at 11:55 p.m., and Saturday, July 13, at 10 p.m., at Arlington Cinema N' Drafthouse, 2903 Columbia Pike, Arlington. Tickets are $10 to $20. Call 703-486-2345 or visit arlingtondrafthouse.com.