In the thick of the Cold War, 1960, a young Sen. John F. Kennedy delivered a late-night speech to students at the University of Michigan.
"Technicians or engineers, how many of you are willing to work in the Foreign Service and spend your lives traveling around the world?" Kennedy asked while making this presidential-campaign stop. "On your willingness to do that, not merely to serve one year or two years in the service, but on your willingness to contribute part of your life to this country, I think will depend the answer whether a free society can compete. I think it can! And I think Americans are willing to contribute. But the effort must be far greater than we have ever made in the past."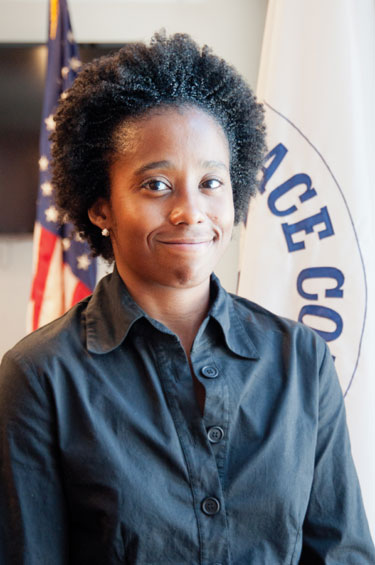 Kiva Wilson
(Photo by Todd Franson)
Kennedy was planting the seed for the Peace Corps. Not long after his inauguration, in March 1961, President Kennedy signed an executive order launching the corps as a pilot program, giving Americans a formal outlet for sharing the very best of the United States amid a world full of conflict. Roughly 45 years later, Kiva Wilson heard the call.
"I had my law-school applications in front of me and got tired of editing them," Wilson remembers. At the time, the South Carolina native, a preacher's daughter, was finishing her undergrad studies at New Hampshire's Dartmouth College. Taking a break from her pile of applications, she headed to a campus career fair. She clearly remembers the Peace Corps table sitting between representatives from Bain & Co. and McKinsey & Co., global consulting powerhouses. The Peace Corps rep made her move as Wilson waited to speak to someone from McKinsey.
"She asked if I'd ever heard of the Peace Corps," says Wilson, who had not. "She explained to me it was a chance to actually work overseas and make a difference."
Transitioning from college to two years of volunteering had not been part of Wilson's plan. She was headed for a career in international law. Still, there was an appeal she couldn't ignore.
"Peace Corps felt like the opportunity to actually have some life experience in an international community, and then figure out how that would all play into international law," the social-geography major remembers. "She explained to me that this was a chance to not just think about development, but to actually do it at the grassroots level."
It was a chance that Wilson ultimately decided to take, starting her service in 2004 in the small town of San Fidel, Cabañas, in El Salvador. Though the town was tiny, the responsibility was not, with Wilson working as an environmental educator in a school of 900 kids with just nine teachers.
"We worked on everything from teaching students how to compost, to how to recycle, as well as simple waste management," says Wilson, who even taught students to start a small recycled-paper business.
"We also built an organic garden behind the school," she continues. "We grew radishes. We grew cucumbers. We grew tomatoes. We used those vegetables in the meals that were actually prepared at the school for the lunches the students ate. It was farm-to-table in the best way possible. All those fresh fruits and fresh vegetables made their way right to the students during the lunch hour – really, for most of the kids, the one guaranteed meal they could eat on a regular basis."
As Wilson taught the kids and learned about El Salvador, she says she was also developing a new appreciation for the United States and her identity as an American.
"The work that I did as a Peace Corps volunteer felt like the most authentically patriotic work that I could ever do," she shares. "I had to explain [to students] that the United States has a very interesting history – a challenging one, if you choose to describe it as such. I explained that it's a country of immigrants, and that my people made their way over to the United States because of slavery – and triumphed. And that we have surfaced in a way that many folks would not have expected.
"People think of patriotism as way to defend your country, but I think of it as a way to really educate about your country, in terms of what we stand for and what our values are. And me being able to kind of explain the fact that I too am American was honestly one of the most challenging yet fulfilling experiences I've ever had."
A bit less challenging but very fulfilling, she adds, was sharing July 4 with a group a group of Salvadoran kids, celebrating with sparklers and watermelon, explaining to them that America's Independence Day is very similar to El Salvador's own, Sept. 15.
"It was a chance to share that we have all gained independence in some shape or form, and that it's a day to be celebrated," she says. "It was super fun. It also felt like home away from home."
As for July 4, 2013, this federal employee will be enjoying more than sparklers.
"I plan on being out at the National Mall with my girlfriend, who is also a returned Peace Corps volunteer. That's the plan."