The Loudoun County Board of Supervisors took disciplinary action against Supervisor Eugene Delgaudio (R-Sterling) Wednesday night for actions that were detailed in a special grand jury's report investigating whether Delgaudio had improperly used Loudoun County resources for personal gain.
The nine-person board, which is comprised only of Republicans, voted 8-1, with Delgaudio voting against, on two separate motions to formally censure Delgaudio and to prohibit him from serving on any county, local or regional committees. The board also approved, 6-3, a third motion that placed the Sterling District budget under control of the full board, with the exception of minor expenditures, and removing Delgaudio's staff aides. Delgaudio, Geary Higgins (R-Catoctin) and Janet Clarke (R-Blue Ridge) voted against the third motion.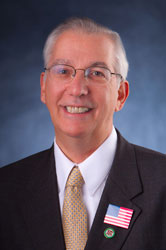 Eugene Delgaudio
Delgaudio, a vocal social conservative who opposes LGBT rights, has become a local celebrity of sorts in the Washington area. He is most known for his work operating Public Advocate of the United States, a 501(c)(4) that opposes the concept of homosexuality, has called LGBT people "perverts" and is known for its elaborate video productions and street theater-style protests promoting traditional understandings of marriage and human sexuality.
The Southern Poverty Law Center (SPLC) has designated Public Advocate as a "hate group," and brought a lawsuit against Delgaudio and Public Advocate last year after Public Advocate appropriated a same-sex couple's engagement photo and altered it to be used in an attack mailer against Colorado Republican State Sen. Jean White, who voted in favor of the state's civil unions law.
The Loudoun County board's decision to discipline Delgaudio occurred just hours after Loudoun County Circuit Court Judge Thomas Horne denied a petition by Delgaudio's lawyer to receive a temporary injunction against the board in order to stop them from pursuing immediate disciplinary action against him.
But even after the vote, Delgaudio's lawyer, Charles King, told The Washington Post Thursday that Delgaudio, who denies any wrongdoing, would continue to defend himself and press for "due process" through a complaint filed against the Board that would require the board to go through a public process and give Delgaudio an opportunity to address each allegation "point by point" before any disciplinary action could be carried out.
Throughout Wednesday night's meeting, other supervisors referenced the grand jury report, which had investigated the complaints made against Delgaudio but determined in June that they could not indict him due to the way Virginia's laws governing the misuse of public assets and financial disclosures are written, as well as the lack of policies at the county board level that spell out potentially illegal or underhanded activity.
The grand jury that investigated Delgaudio's actions to determine whether he misused resources in order to benefit his political campaign was made up of Loudoun County residents, who were allowed to ask questions freely and call in additional witnesses in the course of their investigation. Due to a potential conflict of interest, the Commonwealth's Attorney for Loudoun County referred the matter to the Commonwealth's Attorney for Arlington County and the City of Falls Church, who was appointed as a special prosecutor.
The grand jury found that, under Virginia law, Delgaudio was not guilty of any criminal wrongdoing, but also made specific recommendations in its report to the General Assembly, the Board of Supervisors and the voting public of ways that such laws dealing with the ethical conduct of elected officials could be reformed.
In its report, the grand jury determined that Delgaudio has created a hostile work environment for his aides, subjecting them to verbal abuse that left several in tears and led some to leave their positions with his office entirely.
The jury also found that Delgaudio received a list from a supporter of potential campaign donors, and instructed one of his aides, Donna Mateer, to call people on the so-called "Igor list," including many who lived outside the Sterling District or outside of Loudoun County, allegedly to discuss concerns about the county. But, according to the grand jury report, Delgaudio told Mateer she would get five percent of any large donations he received as a result of the meetings or calls, and promised her a bonus for expanding the list or collecting additional donors. Mateer never received the bonus for her efforts.
At the beginning of 2012, following Delgaudio's successful re-election in the fall of 2011, Delgaudio told Mateer to dedicate more time to calling people on the Igor list and drafting letters. Witnesses told the grand jury that Delgauio claimed the calls and letters were designed to raise money for the Lower Loudoun Boys Football League (LLBFL), even though there were no fundraising projects for the LLBFL at that time. Rather, witnesses told the grand jury, they believed the Igor list was being used to try and retire Delgaudio's campaign debt.
According to the grand jury report, those witnesses who had been contacted from the Igor list testified that Delgauio provided a pamphlet of his campaign and supervisor activities, and discussed not only county issues, but "more controversial issues unrelated to Loudoun County." One witness said Delgaudio turned to the back of the pamphlet where there was an envelope and card soliciting money to "Retire Delgaudio Campaign Debt" and said that no amount is too small.
Other findings from the report included the charge that Delgaudio potentially failed to report campaign funds, specifically related to an envelope filled with $5,000 in cash that had been given to Delgaudio by a pastor who later perjured himself; and that Delgaudio had specifically instructed his aides not to answer phones or address constituent concerns in order to spend more time calling potential donors and creating mailings to send out to those on the Igor list, with Delgaudio even reprimanding one aide for trying to resolve a constituent issue.
The report also found that Delgaudio's aides often mixed their work as Loudoun County employees with their work for Public Advocate. Specifically, the report found that the aides worked for Public Advocate and often conducted county business during normal business hours at the Public Advocate office, located in Falls Church.
The jury said it was unclear whether county employees were paid with county funds during the meetings where both Public Advocate and Loudoun County business were discussed. The aides testified that when they were interviewed for their position with the county, they were asked their views on religion, same-sex marriage and related topics. They also took part in and produced several satirical videos for Public Advocate, which show Delgaudio's aides and other dressed in costume or with bags over their heads during daytime hours.
In response to these findings, the grand jury made six separate recommendations: three for the General Assembly, two to the Loudoun Board of Supervisors, and the last to the voting public.
Specifically, the grand jury recommended that the General Assembly amend the statute governing misuse of public assets so that it applies to anyone working for or elected to any government body in the Commonwealth. Under the current law, the statute only applies to "full-time" employees or officers, which, due to the lack of explanation over what constitutes "full-time," can be interpreted in favor of the defendant. For instance, Delgaudio and other Loudon supervisors receive only a nominal salary, are expected to have other jobs, do not keep a record of the hours they work and are not even required to work a certain number of hours. As such, they or other governmental officials in similar positions might not be considered "full-time" so that they can be prosecuted for misusing public funds or assets.
The grand jury also recommended that the General Assembly amend the so-called "Herring Law" dealing with disclosure of land use proceedings by making it apply to all Virginia counties; increasing the statue of limitations for failure to disclose specific business relationships or recent campaign contributions of applicants with business before a body or board from one year to two-to-five years; requiring the applicant to disclose any such relationships and administering a penalty for falsifying or failing to report that information; and making the statute easier to understand by listing exceptions to the law in a separate paragraph for ease of understanding.
In addition, the grand jury recommended the General Assembly form a committee to research and amend the Virginia Campaign Finance Disclosure Act of 2006.
The grand jury recommended that the Board of Supervisors create a written process by which aides to the board can inquire as to the legality of any tasks assigned to them that could potentially be illegal, educate every new aide about that process, and change staff aide policies to allow a third-party review of any outside employment or political activities, which they would be required to report.
Lastly, the grand jury issued a recommendation to the voting public, encouraging them to educate themselves about political goings-on and their local officials.