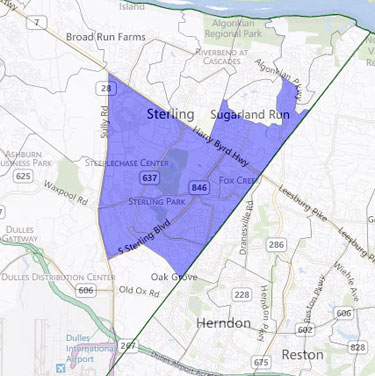 Map of Delgaudio's Sterling-based district on the Board of Supervisors
"While national elections historically tend to generate interest, news, debate, etc., local elections can significantly impact one's life on a wide range of matters such as property taxes, education, local transportation and community services to name a few," the grand jury wrote. "This investigation has been an eye-opening experience for this jury. As a result we expect to all spend more time learning about our respective supervisor and other local politicians. We likewise strongly encourage every other individual who is eligible to vote to learn about his or her local representatives and candidates and to participate in voting when the time comes."
Delgaudio's current district, located in the eastern part of Loudoun County, saw 13,239 voters head to the polls in the 2008 election, with almost 60 percent of them casting their votes for President Barack Obama over Sen. John McCain (R-Ariz.). Four years later, 13,931 voters flocked to the polls, with 61 percent voting for Obama over Mitt Romney, according to results from the Virginia State Board of Elections. However, during 2011's midterm, off-year elections, when Delgaudio was seeking his fourth four-year term, there was a significant drop-off, with only 5,356 people voting, and 53 percent of them choosing Delgaudio.
A group of local individuals has formed a group, Sterling Deserves Better, with the aim of petitioning the Virginia Circuit Court to allow recall proceedings against Delgaudio to move forward. Under the Virginia Code, a circuit court can remove an elected officer for neglect of duty, misuse of office, or incompetence in the performance of duties when that neglect of duty, misuse of office, or incompetence in the performance of duties has a "material adverse effect upon the conduct of the office."
The activists with Sterling Deserves Better are expected to use the grand jury's findings that Delgaudio, despite not having committed any criminal acts, misused his office to benefit his political campaign and had his aides merge their work for his office with work on behalf of Public Advocate, sometimes at the expense of responding to constituent concerns.
In June, Al Nevarez, the Democrat who challenged Delgaudio in 2011 and who helped organize the group Sterling Deserves Better, told The Post that the group had collected more than 600 signatures for a petition requesting that a Loudoun Circuit Court judge remove Delgaudio from office. 540 valid signatures are required, and, according to the group's website, they had hoped to present a judge with at least 1,080 signatures.
Frequent phone calls to and voicemails left with Nevarez over a period of three months from Metro Weekly have not been returned.