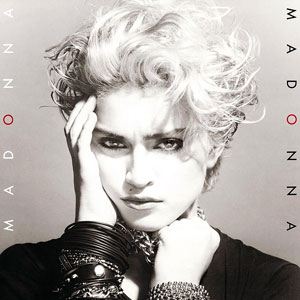 Thirty years ago this week an album was released that would end up changing the course of pop music forever. It would have been impossible to imagine it at the time, but it's undeniably true. Madonna's self-titled debut, released July 27, 1983, launched an unparalleled career that is still going strong 3 decades later. Madonna, apart perhaps from Michael Jackson, is the dominant popular music icon of this generation, and it all started with a rather cunning collection of 8 dance/pop songs that still sound as fantastic now as they did upon their release.
"Everybody" was Madonna's debut single. Released in October, 1982, the dance/pop anthem didn't make a huge impact commercially but momentum was slowly building. Follow-up single, "Burning Up," was a more new-wave influenced dance track, and it continued the building buzz for Madonna as it bounced up the Dance Charts, eventually reaching #3. Crossover success on the pop charts was still elusive, until third single "Holiday". It hit the dance charts first, then began a climb up the pop charts, eventually peaking at #16 while hitting #1 on the dance charts. "Holiday" was Madonna's big breakthrough and remains one of her most instantly recognizable pop anthems. She then followed with 2 Top 10 smashes – "Lucky Star" and "Borderline" – that both received heavy MTV airplay. Madonna's reign was just beginning. Only months after the release of "Borderline," she was writhing on the floor at the MTV Awards in a wedding dress and the title track and first single from her second album, "Like a Virgin," was beginning a chart ascent that would lead to her first #1 pop hit.
Her self-titled debut eventually saw 5 of its 8 tracks released as singles (you could even say 6 as "Physical Attraction" was released as a single in some countries and charted on the US dance charts). The album was initially produced by Reggie Lucas but was largely remixed by Jellybean Benitez, one of the top pop/dance producers of the 80s, prior to its release. The album is a tight mix of pop songs with catchy synth riffs, strong hooks, and Madonna's appealing personality and voice tying it together in a fun package. She was never the world's best singer, but she didn't have to be. Her voice suited these songs perfectly, and the hooks were strong enough that she didn't have to oversing or really sell it with her voice. Some critics have been dismissive of Madonna's voice over the years, but listening back to her debut recorded 30 years ago – in a pre Auto Tune world – there's no question that she could, in fact, deliver a vocal with confidence and charm.
"Madonna" was the album that started it all, and her star would only rise from there. Yeah, a couple of the non-single album tracks are rather forgettable, but the album still stands up today as a fun collection of R&B and dance inflected pop songs that were catchy, funky, and danceable. Thirty years later, it stands the test of time as a classic early '80s pop album.