"It's a musical I never thought I'd end up directing, that's for sure," says Jack Marshall of I Do! I Do! "I actually avoided seeing it for a long time because it just sounded in its construction like such a typical programmed, cornball musical."
Writer Tom Jones and composer Harvey Schmidt, the team best known for the '60s-era musicals The Fantasticks and 110 in the Shade, created the two-person show I Do! I Do! in 1966 as a star vehicle for Mary Martin and Robert Preston.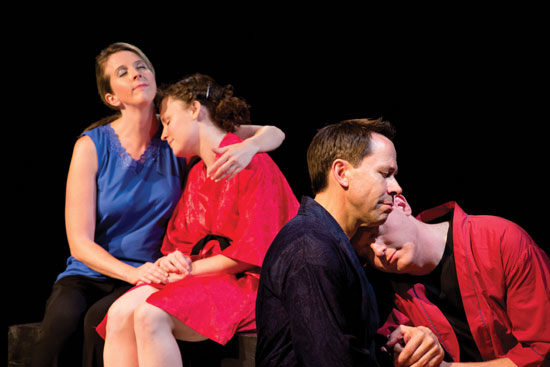 I Do! I Do!: Esther Covington, Mary Beth Luckenbaugh, Steve Lebens, and Chad Fornwalt
(Photo by Johannes Markus )
"As a great admirer of Schmidt-Jones and their experimental approach to musical comedy, [I Do! I Do!] seemed to be beneath them, an example of them selling out," says Marshall, artistic director of The American Century Theater, or TACT. Furthermore, the musical, focused on the ups and downs of a marriage, came "just before the sexual revolution" — before the birth of women's rights, much less gay rights.
But taking in a dinner-theater production of the show, Marshall got an idea to rejuvenate I Do! I Do! by portraying the couple at its heart "through three different prisms: as a traditional heterosexual [pairing], as a same-sex female marriage and a same-sex male marriage." For a season-ending production at TACT, he cast four actors — two men and two women — to portray the three couples, and moved the setting from a span in the early 20th century to be "anytime, or the perpetual present."
"Our entire reason for existence," Marshall says about TACT, "is to try to find 20th century plays that were once very popular or groundbreaking … but for whatever reason have fallen out of the professional theater repertoire, [then reimagining them for] a whole new audience." With permission from Jones and Schmidt and a strong design time helping with the slight changes in staging, Marshall thinks TACT has succeeded "in instantly modernizing what was rapidly becoming an un-performable chestnut."
Marshall also thinks TACT's production, which has so far received a good response from both patrons and critics, "is one of the most educational, gentle, painless ways for someone who has grave doubts about same-sex marriage." He adds: "I think it can really change people's minds and hearts and put them at ease." '
I Do! I Do! runs to Aug. 17. 'Gunston Theatre Two, 2700 South Lang St., Arlington. Tickets are $35 to $40. Call 703-998-4555 or visit americancentury.org.