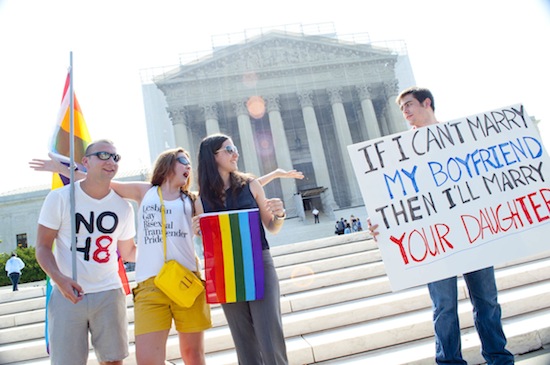 Emboldened by the Supreme Court's ruling last week striking down Section 3 of the Defense of Marriage Act and returning marriage equality to California, advocates in New Mexico are hopeful the state's highest court will say definitively whether same-sex couples in the state have the right to marry.
Wednesday the American Civil Liberties Union (ACLU) and the National Center for Lesbian Rights (NCLR) announced a new effort to go directly to the New Mexico Supreme Court to clarify the state's vague marriage laws. Late Tuesday the groups filed a writ of mandamus on behalf of six same-sex couples, asking the state Supreme Court to resolve the issue before the case makes its way through the lower courts.
In March, two of those same-sex couples filed a lawsuit after they were denied marriage licenses by a county clerk. Because neither the New Mexico Constitution nor state marriage laws explicitly ban same-sex marriage, the lawsuit argues it is unlawful for county clerks to deny civil marriage licenses to same-sex couples.
In the request filed with the state Supreme Court on Tuesday, marriage-equality advocates asked the court to clarify whether same-sex couples can marry in the state, and whether New Mexico recognizes the marriages of same-sex couples married in other states.
"The United States Supreme Court's decision to overturn DOMA has increased our sense of urgency to clarify the ability of same-sex couples to marry in New Mexico," said ACLU New Mexico Executive Director Peter Simonson in a statement. "With all barriers to federal recognition removed, our State cannot stand by as thousands of same-sex couples, many of whom were married out of state, continue to be denied those protections."
New Mexico is the only state in the union that does not recognize nor prohibit recognition of same-sex marriages, which has led to a long history of challenges to New Mexico's ambiguous marriage laws. On Feb. 20, 2004, the clerk in Sandoval County, N.M., issued marriage licenses to 64 same-sex couples before ordered to stop by the state attorney general. Since that decision, county clerks have not issued marriage licenses to same-sex couples and the state has been vague about whether state law permits same-sex marriage, leading advocates to take their fight to the courts and Legislature. In March, Santa Fe Mayor David Coss and City Councilor Patti Bushee announced that they would sponsor a resolution calling on county clerks across the state to begin issuing marriage licenses to same-sex couples.
"Every day that goes by, same-sex couples and their families are being harmed by not being able to protect their families through marriage," said NCLR Executive Director Kate Kendell in a statement. "The fall of DOMA has greatly upped the stakes for loving, committed same-sex couples in New Mexico. Now more than ever, we urgently need guidance from the courts on whether these couples can access the protections and societal recognition of marriage."
Much as advocates are expected to do while fighting for same-sex marriage in states across the country, the lawsuit announced today quotes directly from Justice Anthony Kennedy's sweeping majority ruling in the DOMA case, stating that "barring same-sex couples from the legal shelter of marriage … encourages and facilitates both private and official discrimination, because it 'instructs all [state and] federal officials, and indeed all persons with whom same-sex couples interact, including their own children, that their [relationship] is less worthy than the marriages of others.'"
[Photo: Marriage-equality supporters outside the U.S. Supreme Court (Credit: Todd Franson/Metro Weekly).]
Read the request here: