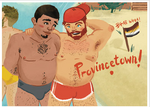 It's an overwhelming list of activities: BigMuscleBears at Paramount, Furball at the Boatslip, Bearracuda at Purgatory, Blowoff at the Boatslip, Fag Bash at Governor Bradford, Horse Meat Disco at Paramount and Crisco Disco at Purgatory.
And those are just the leading parties each night during Provincetown Bears' 11th Annual Bear Week, which starts today, July 13, in the magical gay resort and liberal haven.
No one can hit every party, certainly not if you also hope to take in any of the other tourist attractions, from the Pilgrim Monument to the historic Provincetown Public Library to — duh! — the out-of-the-way beach. And then there's all that entertainment: the drag queens (Dina Martina and the exceptionally hysterical Varla Jean Merman), the bear singers (Tom Goss, Matt Alber, Justin Utley), the bear drag queens (hello, Miss Richfield 1981) and the bear comedians (including hunky Frank Liotti).
It's exhausting just glossing over the highlights. But when asked, several experienced Bear Week foragers advised not to sweat the small stuff or stress with advanced planning. Other than a couple can't-miss events — most obviously Blowoff on Tuesday, July 16, to show hometown love — it's best to just go with the flow, act on a whim based on how you're feeling. Some nights you'll just want to cruise the charming streets, mosey around the wharf or just have a night in.
And then there are the basics, as listed by Provincetown Bears' Stephen Lambeth in an article in Metro Weekly's recent Summer Travel Issue: Afternoons at the Crown & Anchor pool bar, the popular nightly tea dance at the Boatslip, eating and cruising at Spiritus Pizza late at night.
For a complete list of events with updated information such as those that have sold out (sorry Charlie, that includes David Flower's obviously-too-popular Sunset Boat Cruise) see the Provincetown Bears' Event Info.
I plan to recap some of my adventures — at least, ahem, all the highlights fit to print — in posts to this blog. You can also follow me on Twitter or Instagram under the username ruleonwriting.
Now, pardon me while I join the large sloth of bears hitting the Cape for foraging and fur trapping. Grrr…