"Our production lacks a certain amount of modesty," purrs Collin Ranney, costume designer for Studio Theatre's 2ndStage production of The Rocky Horror Show. "There's a lot of tits and ass, for lack of a better term."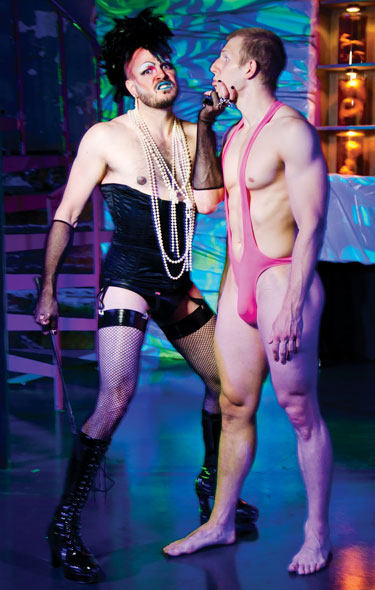 The Rocky Horror Show at Studio Theatre
(Photo by Julian Vankim)
He's not kidding. For this new production, a brazen, hyper-sexualized reimagining of the original stage production — but more importantly, The Rocky Horror Picture Show, the film adaptation that's been seared into our brains as a result of nearly 40 years of constant exposure — sex, kink and extreme gender ambiguity reign supreme.
"The movie was filmed in the '70s and our sexual mores have changed," says Alan Paul, who co-directed the production with Keith Alan Baker, founder of 2ndStage. "What was shocking then was a transvestite like Tim Curry. That's not so shocking anymore."
"We wanted to evoke the same feeling in 2013 that people felt seeing the movie in 1975," he continues. "Which requires different things — like more sex. We were trying to rationalize what Frank N. Furter's lab was and why he'd come from outer space to Earth. And we thought it was a lab where they're studying human sexuality in all its forms. So we put sex in the foreground."
That would explain the abundance of dildos Giorgos Tsappas built into the walls of the elaborate, dual-tiered set that fills the stage of The Metheny.
"We are pushing it somewhat," agrees Baker. "We are looking for the darker aspects of drugs and sex and rock and roll. So we are pushing everything toward the darker side. Mitch wanted to do a different interpretation of Frank. And so we looked at the idea of cult leaders and what that means, whether it's sex or it's S&M or it's leather. We wanted to look at the idea of followers gravitating toward a charismatic leader, and how far people are willing to go."
Mitch is Mitchell Jarvis, who has stepped into the formidable high-heels of Frank N. Furter, the iconic "sweet transvestite from Transexual, Transylvania." It's not an envious position to be in, as Tim Curry's magnificently raucous, star-making performance is forever etched into our collective consciousness. It's one of those all-time great performances, and anyone else tackling it is going to have to very quickly claim it as their own. But by the time he reaches the show's big torch-song closer, "I'm Going Home," Jarvis has pretty much claimed the character in his own way. If he doesn't make you forget Curry altogether, he certainly has found a new way for audiences to see the character. It's less camp and vamp, more scamp and tramp.