On the morning of Jan. 1, 2009, Oscar Grant was shot in the back by a police officer. He was neither armed nor dangerous. He was lying flat against the concrete platform of an Oakland train station. He died hours later in a nearby hospital. He was 22 years old.
Fruitvale Station, director Ryan Coogler's stunning debut, recreates Oscar Grant's last days with a sensitivity rarely seen in true-to-life drama. Coogler is unafraid — daring, even — to address the wounds that fester after issues of race, class, masculinity, law and order collide. It may surprise you to learn that he hasn't made an angry movie, though. His is a thoughtful tragedy, not a vicious screed. Fruitvale Station will outrage you, but it is not itself outrageous.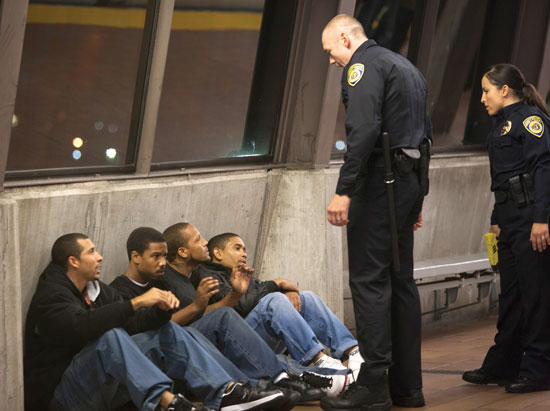 Fruitvale Station
(Photo by The Weinstein Company)
The lead role is played by Michael B. Jordan, a dazzling young actor with a talent for instilling characters with uniquely warm charisma. Jordan's performance straddles the many faces Grant wears in his day-to-day life: playful father, swaying boyfriend, doting son, tough drug dealer and convicted felon. He appears entirely devoted to his daughter, Tatiana (Ariana Neal), and perhaps because of her, strains to direct his life along the straight-and-narrow. Jordan's Grant, like most people his age, is struggling to define himself between streaks of immaturity. Unlike most, however, he's burdened by pressures distinct to America's underclass. Fruitvale Station amplifies these pressures to explain Grant's complex tragedy. If we truly want to understand his death, we first need to understand the life he lost.
That life is a difficult one. Despite his family ways, Grant has a quick temper. (While in prison, in the movie's only flashback, we see how hot his head can burn.) Jordan plays Grant as a harmless slickster at times, unable to marry his charm and intelligence into maturity and a steady job. His girlfriend, Sophina (Melonie Diaz), questions his commitment and work ethic. His mother, Wanda (Octavia Spencer), hides her concern for his future behind a quiet dignity about how far he's come. Even when Grant decides to change his life — when he empties a Ziploc bag stuffed with marijuana into the ocean, instead of selling it — Fruitvale Station reminds us that his success as a man, father, partner and son is far from guaranteed.
Yes, this movie has its flaws. It begins to lose steam on the night of New Year's Eve, just as it should be hurtling toward Grant's tragedy. A handful of scenes seem to exist only to fill us with dread, absent Coogler's naturalistic style and carefully developed themes. Yet, those minimal bits of dullness and melodrama are merely small blights on an impressive work. Coogler's strengths — his unassailable faith in his cast, and a staggering sense of when to linger for an extra half-beat — those are the qualities that make this such an endearing, sorrowful movie.
FRUITVALE STATION




Starring Michael B. Jordan, Octavia Spencer, Melonie Diaz
Rated R
85 minutes
Opens Friday
Area theaters
Ultimately, that's the brilliance of Fruitvale Station. Coogler has snatched Grant away from those who seek to turn a person into a parable, and by doing so, pays both his memory and his surviving family the respect they deserve. Oscar Grant is not a symbol. He is a body in the ground, a life lost, a tragic victim of an astonishing crime. At the climactic, inescapable moment when police pin him against the ground, Grant does not become bigger than himself. "I have a daughter!" he pleads to his murderer as he bleeds. "I have a daughter!" A crowd watches, and it feels terrible to do the same. Terribly familiar, terribly difficult and terribly sad.