The recent economic downturn led to the closing of numerous businesses. Companies lacking sufficient capitalization, a clear strategic plan, or simply adequate management often went down in flames at the height of the crisis. Local LGBT nonprofits were buffeted by the same economic storms, yet many rode out the gales and survived and even thrived. How does a small group set up to help the community without making a profit keep going?
"Nonprofits are just like businesses," says Sam McClure, director of affiliate relations and external affairs for the National Gay & Lesbian Chamber of Commerce. "Nonprofits have a core product, they engage in basic business operations, and are set up to serve specific clients." She adds that "good planning, consistent management, and budgeting are essential for the survival of an organization."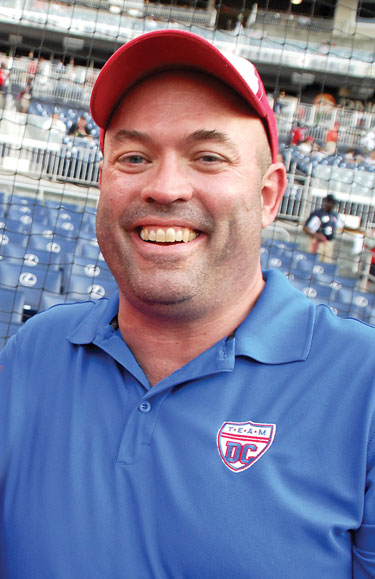 Brent Minor of Team DC
(Photo by Ward Morrison)
Among the District's nonprofits is Team DC, an organization that works with local sports clubs to help dispel discrimination against LGBT people who wish to participate in sports. Team DC works with about 30 individual clubs with total membership of approximately 3,500. The group coordinates funding to local sports groups, provides sporting outlets for area LGBT teams, and administers scholarships for LGBT student athletes. The group's only paid staff member, Brent Minor, describes Team DC as a resource for LGBT individuals who find it difficult to be a member of other sports teams.
"Many of the teams we serve have been around for 20 to 30 years," says Minor. "Most of them have been fairly resilient and have managed to keep going even during tough economic times. People still want to participate in sports, even when businesses are having problems. This gives us a ready-made constituency."
Casa Ruby is another nonprofit, designed as "a multicultural center and safe space" for Washington's Latino LGBT community. The organization works directly with local governments in providing services including HIV testing, combating youth homelessness, employment assistance, ESL classes, and legal counseling for gay and transgender members of the Latino community. According to Henry Maticorena of Casa Ruby, the organization has been growing in recent years despite cuts in government programs to social-services organizations due to the recent sequestration of the federal government.
One of the means that Casa Ruby uses to enable itself to provide services to its constituency is through a series of small contracts with other nonprofits to conduct HIV testing through its volunteer base. Casa Ruby also produced a 2013 calendar featuring a different transgender woman each month as a means of raising awareness in the Washington transgender community.
One of the Washington/Baltimore area's most distinctive philanthropic organizations is Brother, Help Thyself, a community-based organization that provides financial and other support to LGBT and AIDS/HIV groups. Founded in 1978 by four gay motorcycle clubs, the group began by raising funds for a local gay men's health organization, which ultimately grew into Whitman-Walker Health, one of the country's leading HIV prevention and treatment foundations.
According to BHT's president, James Slattery, the secret for his group's success has been to "be as far as possible from running itself as a traditional business. Our operating model is to raise as much money as we can and give it all out at the end of the year." The organization has no paid staff and no permanent offices. It even holds its board meetings in conference space rented from another local LGBT nonprofit.
Slattery says BHT just kicked-off its annual grant drive. Among its fundraising activities is its annual Gay & Lesbian Night at King's Dominion, scheduled for Sept. 14.
John F. Stanton, a CAGLCC member, is the president of SRP & Associates Inc., a strategic marketing and public relations firm in Northern Virginia.
Winner of the 2012 NGLCC Chamber of the Year Award, the Chamber means business. For more information, visit caglcc.org.