"It's all fun. and gay 'til someone loses their rights."
The phrase comes from a T-shirt sold by the rock band fun. on its website and at its concerts. The tagline on the shirt, which benefits the LGBT-rights organization Revel & Riot, reads "LGBTQ Equality Now."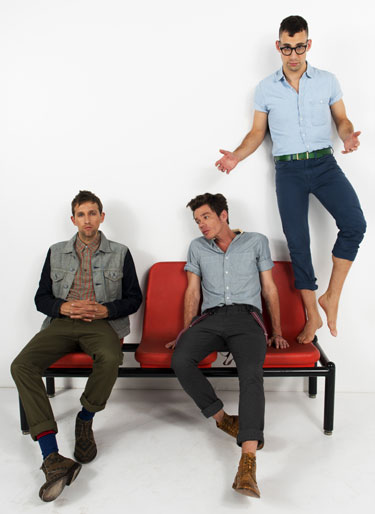 fun
(Photo by Lindsey Byrnes)
"The band has just always used whatever platform we had to raise money, raise awareness and then, as we got bigger and bigger, we realized we could do even more good work," says fun.'s guitarist Jack Antonoff.
It's certainly been a whirlwind year and a half for the New York trio led by lead vocalist Nate Ruess and also featuring multi-instrumentalist Andrew Dost. Earlier this year, fun. – the period is to distinguish the group from a punctuation-less Scandinavian noise rock band – won two Grammys, for Best New Artist and Song of the Year, the latter for its towering hit anthem "We Are Young."
The 29-year-old Antonoff has spearheaded the group's pro-LGBT activism, including founding the LGBT-supportive nonprofit The Ally Coalition. He spoke to Metro Weekly not long after the Supreme Court issued its historic rulings on same-sex marriage late last month.
"When everything does get completely sorted," Antonoff says, "I will just be the happiest person to go to a hundred gay weddings, and get married myself one day. But until that day, getting married is not something that I would feel comfortable [doing]."
Fortunately the feeling's mutual. His girlfriend, Lena Dunham of HBO's Girls, has publicly said as much. Says Antonoff: "It's nice to be united in that."
METRO WEEKLY: What triggered your strong support for the LGBT community?
JACK ANTONOFF: About five or six years ago, I just started thinking about it more and more, and talking about it more with my group of friends. A lot of my friends are gay. I was watching their lives and how all these things connect them. And then I hit a point, which I think a lot of Americans have hit, where it just became the most obvious thing in the world. It was a complete human-rights issue, it's the way we should all be. And then it just grew from there.
MW: I understand you started The Ally Coalition with your sister, Rachel.
ANTONOFF: Yeah. She's been kind of on the same trajectory as I have on a lot of these things. We'd been talking about it for years, and it's just a process that we've gone through together.
MW: Are your parents on board too?
ANTONOFF: Yeah they're incredibly supportive. I was very lucky to grow up in a forward-thinking family. I think my parents did a great job of raising me in a way where homosexuality wasn't a strange thing at all. When I was a teenager, gay rights were really starting to be discussed. And in my 20s, it really started to get out there. I don't have a lot of, "This is how it's always been." I'm from a generation of fighting against homophobia.
In being for gay rights, I think it's important to understand where people are coming from. And my parents are from a time when the government was reporting that being gay is a mental illness. And that was an accepted fact – it's obviously not a fact. Just watching them have the transformation of like, "Yeah, equal rights would be great." Or, "Sure, I would love it if gay people could get married the same way we can." Watching them go from that sentiment to realizing that it's the civil-rights issue of our time; realizing that it's massive and it's not just some sort of casual like, "Yeah, I support it" – that's been amazing.
MW: But even among your generation, there are still some holdouts. There are still some people who don't support LGBT equality.
ANTONOFF: Without a doubt. That's kind of the scary thing. For the most part I'm very proud of my generation, but you're right, there are holdouts. And that's the religious thing.
June 26 was a historic and incredible day, but it also still makes you think of what lies ahead. And it will be ongoing even when there is full equality, and there's no difference in any rights — there's still going to be decades of assimilation and people coming to terms and figuring the whole thing out. It's definitely tough when there's a book out there that calls homosexuality a sin that a lot of people feel very strongly about.