The To Do List isn't perfect. It moves in fits and starts, slipping in and out of rhythm in clumsy, amateurish ways. It's wildly enthusiastic, but it can't quite meet its own high expectations. Just as the story starts to firm up, a flaccid joke kills the mood. Basically, we're watching writer and director Maggie Carey lose her filmmaking virginity — and to be honest, it doesn't seem all that different from the real thing. Sure, it may not guarantee to get you off, but if it does, you'll be ecstatic.
Okay, okay, sex puns aside: The To Do List stands out for its hilarious attitude about teenagers doing the dirty. Carey's done a remarkable thing by reversing the traditional power structure of the genre. This time, the girls lust more than they're lusted after. And yet, her ability to craft jokes that don't leer at sex is even more impressive. These characters don't hide their sexual urges. They explore them, recklessly humping their way toward a sex-positive future. Of course, that's not to say The To Do List isn't a raunchy mess, either. Carey has it both ways: She made an unusually empowering movie, but she didn't shy away from the bread-and-butter gross-out gags that most teen-sex comedies thrive on. If it's a fluid that comes out of a human body, the odds are she's cracked a joke about it somewhere in this script.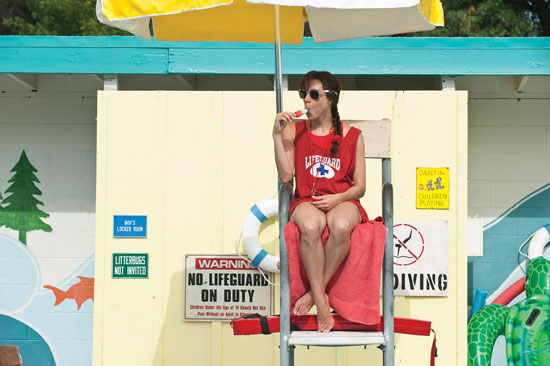 To Do List
(Photo by Bonnie Osborne)
Our sexual heroine is Brandy (Aubrey Plaza, showing far more than her deadpan shtick), an overachieving Boise, Idaho, valedictorian who's about as racy as a pair of day-of-the-week panties. Brandy's friends Fiona (Alia Shawkat) and Wendy (Sarah Steele) drag her to a graduation kegger, where she drunkenly tries to hook up with the local hunk, Rusty Waters (Scott Porter). After that mild humiliation — and a chat with her much more "experienced" older sister Amber (Rachel Bilson) — Brandy vows not to just master an encyclopedia's worth of sex acts, but to also lose her virginity to Rusty before she heads off to college at the end of the summer.
So, what's a Type A girl to do when she doesn't know how to do it? Draw up a disturbingly neat worksheet of sex acts, find a warm-blooded guy, and get to the grind. (Or, as Brandy says, "Welp. Let's get to work, vagina.")The To Do List hits its stride with this montage of masturbation, finger-blasting and handjobs — the last of which involves two very wry, very immature jokes about The Firm and artificial popcorn butter — and it's in those moments when Carey successfully marries the awkward physicality of teenagers touching each other's bodies with a filthy sense of humor. Plaza's at her best in those moments, too. She's a remarkably deft physical comedian, so her wordless gags tend to supplant her pithy one-liners. Nonetheless, Bilson's goofy turn as Brandy's promiscuous, airhead older sister may be the biggest surprise in The To Do List. She's terrifically funny without chewing any scenery.
When Brandy's not fooling around with boys or fighting with her sister, however, The To Do List falls victim to an apathetic pacing that seems borne out of Carey's sketch-comedy background. Many scenes, taken individually, are decent vehicles for effective jokes — but as a whole, they're jumbled into an ambivalent narrative that never quite decides if it wants to be about teenage sex, teenage friendships, or both. Carey also seems hell-bent on reminding us, in any and every way possible, that the early '90s were a bizarre, loud period of silly fashion and trends. (The To Do List is set in 1993, so prepare yourself for many, many nostalgic references to Marky Mark, Trapper Keepers, Hillary Rodham Clinton, Home Improvement and anything else that was somewhat memorable that year.) Still, Carey's mistakes are rookie ones. They certainly dampen this movie, but they don't totally undermine it.
THE TO DO LIST



Starring Aubrey Plaza, Bill Hader, Rachel Bilson
Rated R
104 minutes
Opens Friday
Area theaters
Ultimately, The To Do List works because of the way it cleverly inverts the teen-sex comedy. Brandy isn't some ditzy fool who gets tricked into sleeping with somebody, nor is she a do-gooder who turns into a horndog when she's not sober. She's a woman who chooses sex, and as a result she always wields control in her sexual encounters. It's not quite revolutionary to do this in the footsteps of Mean Girls and Easy A, but it's nevertheless refreshing to see. First-time director or otherwise, Carey's triumph shouldn't be understated: She made a sex comedy that doesn't have any hang-ups about sex. Now, let's she what else she can do.