When it comes to dates, Paul Kuntzler is a sort of human computer.
"I first came to Washington on Wednesday, Jan. 18, 1961, for John Kennedy's inauguration," Kuntzler recalls, citing the historic event that occurred two days later. He easily recalls the dates – and days of the week – of, for example, meeting gay-rights pioneer Frank Kameny, who invited him to join the Mattachine Society, harbinger of the country's modern LGBT-rights movement.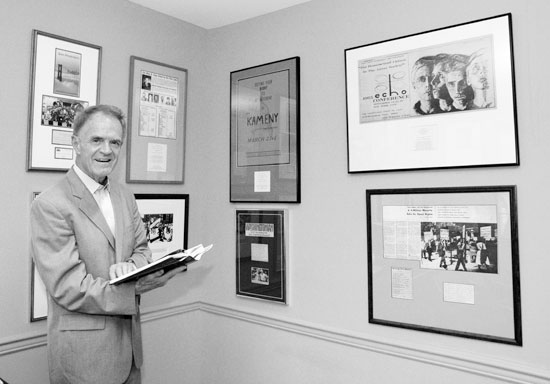 Paul Kuntzler
(Photo by Patsy Lynch)
"I participated in the first gay-rights picket in front of the White House on Saturday, April 17, 1965," he says of his Mattachine roots. "There were 10 of us – seven men and three women."
He moved in with his partner, Steven Brent Miller, May 29, 1962, enjoying a life together until Miller's death in 2004.
The Detroit-area native, active in Democratic politics since his youth, remembers much – like helping to found the Gay and Lesbian Activists Alliance of Washington, D.C., and the Gertrude Stein Democratic Club. Certainly, he remembers Wednesday, Aug. 28, 1963.
METRO WEEKLY: By the time of the march, you were serving on the board of the Mattachine Society of Washington?
PAUL KUNTZLER: I was elected to the board of directors of the Mattachine Society April 3, 1962. I was just 20 then, the only minor involved in this tiny gay-rights movement, which consisted of no more than 150 people in five American cities: Washington, Philadelphia, New York, San Francisco and Los Angeles.
MW: Was it more dangerous at the time to be single or to be a couple?
KUNTZLER: Well, it was difficult whether you were single or a couple, because there was a total ban on lesbians and gays working in the federal government, including the District government. The American Psychiatric Association classified us as mentally ill.
MW: What can you tell me about the day of the march?
KUNTZLER: First of all, President Kennedy declared a virtual state of martial law. There was this belief that there were going to be riots. A lot of offices were closed, including my own.
MW: Were you expecting any rioting?
KUNTZLER: Not really. But the idea of a huge march on Washington was a radical idea in 1963. It had never happened before. I didn't really expect any problems, but I knew there was this belief that there might be riots. Of course, there weren't. There was virtually no crime that day.
MW: It actually looks like it was a beautiful day.
KUNTZLER: It was – sunny, in the 80s.
MW: How did that Wednesday unfold for you, a young, gay, white man joining this March on Washington?
KUNTZLER: In the morning, probably about 11 o'clock, I took the bus to the Washington Monument grounds where the crowds were gathering. There were civil rights organizations, church groups and trade unions. I remember being on the monument grounds and a woman saying, "The buses are still coming through the Baltimore Harbor Tunnel." There were about 2,000 buses.
My father had been a member of United Auto Workers. Walter Reuther, president of the UAW in Detroit, he was one of the march leaders. He spoke that day. So I decided to march with the UAW down Constitution Avenue to the Lincoln Memorial.