At the start of the 1970s, Faith Ringgold was commissioned to paint a mural for the female detention center at Rikers Island. One prisoner asked her "to paint the road out of here." In response, Ringgold painted aspirational images of women: a female doctor, a female bus driver, a female president, even a white mother holding a mixed-race child.
"When she was painting this, most of those things were not reality — women didn't hold those positions," says Kathryn Wat of the National Museum of Women in the Arts (NMWA), adding with a laugh: "Now, we've ticked off almost all of them, except the woman president. But we'll see in a few years if we change that."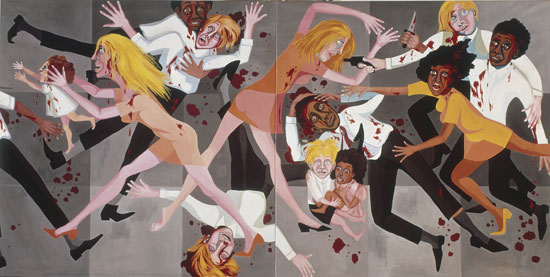 Faith Ringgold American People Series #20: Die
(Photo by courtesy ACA Galleries New York)
The painting, For The Women's House, was the first public commission by Ringgold, who is today best known for her work in the 1980s making painted story quilts. The painting is on display for the first time outside of Rikers at NMWA as part of the traveling exhibition American People, Black Light, a comprehensive survey of Ringgold's oil paintings.
"We just thought this was a perfect fit, and particularly this year," Wat says about the Ringgold retrospective at the women's art museum. Ringgold started making oil paintings in the early 1960s, and her political and figurative work was very much a response to race relations in the Civil Rights Era, which gained significant national attention with the March on Washington 50 years ago this month. In particular, Ringgold made her mark with particularly provocative paintings of patriotic symbols, from the American flag to a map of the United States, that prominently include violent imagery or information.
That drew her some attention — but only some. "She's not selling anything at this point. As she puts it, she couldn't give works away," says Wat, who during a guided tour of the exhibition singles out her favorite work as Ringgold's 1965 Self-Portrait, which was her largest work to date. "She paints herself huge … and she looks so regal," Wat says, noting that the abstract design in the background harkens back to African design. "Yet [Ringgold] has said that red sign in the back also looks a little bit like a stop sign, and that's how she felt at this point: sort of stymied."
"She had this story that she wanted to tell," Wat continues, "but nobody really wanted to hear it."
That's a far too common story in the history of women artists, something that NMWA makes plain. In fact, Wilhelmina Cole Holladay was put on her path to starting the museum after she and her husband came up short trying to learn more about 17th century Flemish painter Clara Peeters, whom they first discovered while traveling abroad in the 1960s. The Holladays would eventually establish NMWA in 1987. Now, 26 years later, the museum is still shockingly the only museum in the world focused on women artists. But it's grown from the Holladays' core collection of about 500 objects to feature a permanent collection of 4,500 objects by 1,000 artists. This includes the only Frida Kahlo painting in all of D.C., as well as a sculpture — yes, a sculpture — by the 19th century French stage actress Sarah Bernhardt.
And it's all housed in a grand renovated building near Metro Center that was built in 1908 to be a Masonic temple, now owned outright by the museum.
"We take great pleasure," Wat says, "in the fact that an organization and even a building that was once verboten to women is now devoted to them."
American People, Black Light runs through Nov. 10 at The National Museum of Women in the Arts, located at 1250 New York Ave NW. Admission is $10. Call 202-783-5000 or visit nmwa.org.