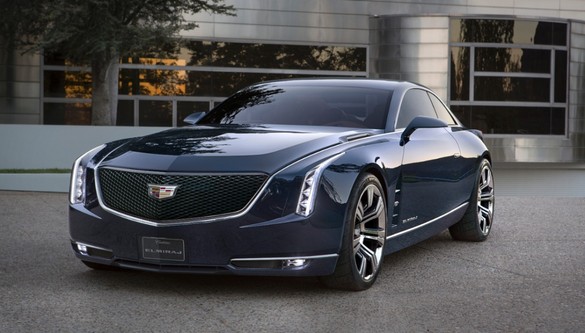 Seriously, what is happening over at Cadillac? The company once synonymous with the elderly has been continuously knocking it out of the park design-wise of late. The ATS and XTS sedans have a much bolder, edgier design that is helping take the company even further ahead of its occasionally staid rivals, and this week Cadillac gave us a glimpse of a more beautiful future than the one they're currently selling.
Unveiled at Pebble Beach, the Elmiraj is Cadillac's vision of the future of luxury travel — and let me say this, I like what they're seeing. The coupe is intended to represent the top-end of the luxury segment, something to express "the pure enjoyment of driving," according to the company. A grand coupe in the grandest of senses, the 205-inch auto offers a glimpse of future models that will carry Cadillac's Art & Science design — however, if they have any sense, they'll put the thing into production. There's 22-inch wheels, vertical LED lights, an achingly long hood, and a heart that beats as fast as those who look at it.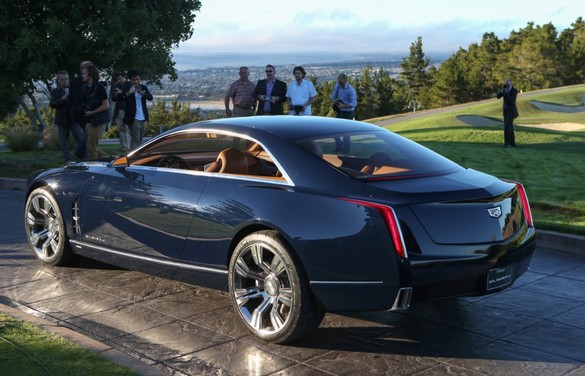 Powered by a twin-turbo 4.5-liter V8, Cadillac estimates 500hp and 500 lbs-ft of torque, pushing the 4000lb coupe through the rear-wheels. Stopping all that power are Cadillac's ceramic brakes, while flourishes such as the twin vents and Vsport branding help give a less-than-subtle hint as to the power beneath the car's skin.
The luxury continues inside, where 4 people can sit in incredible comfort. A true grand tourer, the Elmiraj offers exquisite materials on all sides of its passengers. Black titanium trim, upper camel leather, Brazilian Rosewood veneer, a concealable 10-inch touchscreen on the centre dash, a high-res widescreen behind the gauges, and a centre console that runs the full length of the cabin, dividing it into 4 individual spaces for occupants. Were the Elmiraj ever available to drive, I'd wager that it'd be an incredible ride both in the front and back.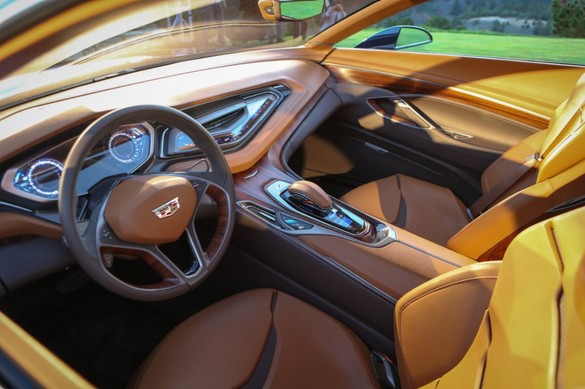 Sadly, the Elmiraj will likely never see the light of day as a production model — but the technology and design can be expected to appear in lesser models in Cadillac's range in future generations. If Cadillac can bring any of the Elmiraj's style to a mainstream sedan, it would be an incredible coup for a company that is quickly cementing its revival as a true luxury brand. An ATS price point with Elmiraj looks? You'd be crazy not to want one.
In the meantime, look, drool, and dream of Cadillac accidentally leaving the keys lying around…