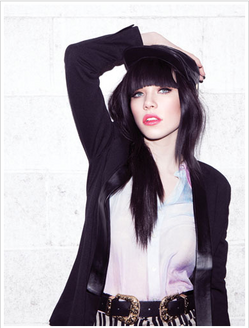 It may have been the Song of Summer last summer, but that doesn't mean you can't still listen to it. As simple as it is, "Call Me Maybe" has had surprising durability. Even if you don't necessarily seek it out to play a year later, it's just so catchy and sweet you don't mind hearing it again.
And tonight, you can hear it live, as Carly Rae Jepsen makes her debut at the Filene Center at Wolf Trap, with an opening set from Hot Chelle Rae. (Rain, rain, stay away…) Word on the street is that the 27-year-old Jepsen is a pretty solid performer and gaining confidence in large venues. And when I talked to the longtime supporter of the LGBT cause a couple months ago for a profile in Metro Weekly's Summer Music Issue, the former Canadian Idol finalist talked about preparing for her first headlining tour by watching concert footage from "a lot of my favorite performers from the past and seeing which things I want to incorporate." When asked for specifics, she cited Cyndi Lauper, Feist and "one of my new favorite artists" Kimbra. Sharp live performers all, and a nice mix of styles. "I have varied tastes," she said. "I just love how Feist kind of draws you in with her little acoustic song, and I'm thinking of incorporating one or two little acoustic songs into my set as well."
Of course, Jepsen has made her name with peppy pop songs with a beat you can dance to, from "Call Me Maybe" to "Tonight I'm Getting Over You," both from last year's studio set Kiss. "Kiss was a really fun record to make," she said, "but those songs are meant to be performed live. It's like pure fun pop."
Jepsen added: "I'm hoping that people are going to want to dance and sing along."
Carly Rae Jepsen performs tonight Wednesday, Aug. 28, at 7 p.m., at The Filene Center at Wolf Trap, 1551 Trap Road, Vienna. Tickets are $30 to $42. Call 877-WOLFTRAP or visit wolftrap.org.