Darren Manzella, one of the most high-profile faces in the fight to end the "Don't Ask, Don't Tell" ban on out military service by gay, lesbian and bisexual servicemembers, died in a car accident Thursday night in Pittsford, N.Y., according to the Rochester, N.Y.-based Democrat and Chronicle.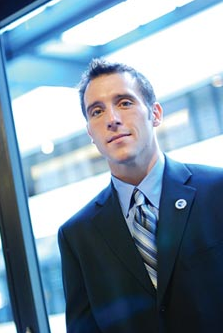 Though a familiar face in D.C., particularly during the Capitol Hill DADT debate, Manzella, 36, has been living in Rochester, where he married his husband, Javier Lapeira-Soto, July 5.
Aubrey Sarvis, former head of the Servicemembers Legal Defense Network (SLDN), which represented Manzella and where he worked after being discharged under DADT, released a statement following the news that Manzella had died.
"As a member of the world's bravest group of men and women, Army Staff Sergeant Darren Manzella stood out as a shining beacon of selfless courage," Sarvis said in his Aug. 30 statement. "He was one of the most unassuming and remarkable soldiers I have ever known. It was my honor to serve with and help represent this extraordinary young man.
"Sgt. Manzella put a proud and brave face on the 'Don't Ask, Don't Tell' repeal fight, telling America and the Pentagon on 60 Minutes that he was a gay soldier about to complete another tour of duty in the Middle East. Darren understood he would most likely be discharged under that terrible law, but still, he wanted to make the fight to hasten the day 'Don't Ask, Don't Tell' would end. For this decorated medic and solider, it was about proudly serving without having to lie.
"Sgt. Manzella helped shape hearts and minds bringing America and the military together on a difficult issue. Quite frankly, he chose the more difficult path over the easy one.
"After he left the Army, Darren worked for SLDN for several months and continued to tell his story to policy makers on Capitol Hill and at the White House, and clearly his story made a huge difference and moved lawmakers to act. The SLDN family mourns for one of our own, and we grieve with and for his wonderful family – his mother Nancy, father Michael, and Javier, Darren's husband of two months."
In 2008, speaking with Metro Weekly ahead of delivering a speech as special guest to SLDN's National Dinner that year, Manzella said, "My training, my experiences, the people I've met, are things I never expected I would have in my life. I was definitely lucky to continue serving my country, and the medical field is something I'm very passionate about. I just can't compare it to anything else I've had in my life.
"There's uncertainty, but there's uncertainty in all aspects of life. I tend to take it not day by day, but situation by situation. I go into work every day and I do my job the best I can."
[Photograph of Darren Manzella by Todd Franson, Metro Weekly, March 8, 2008]