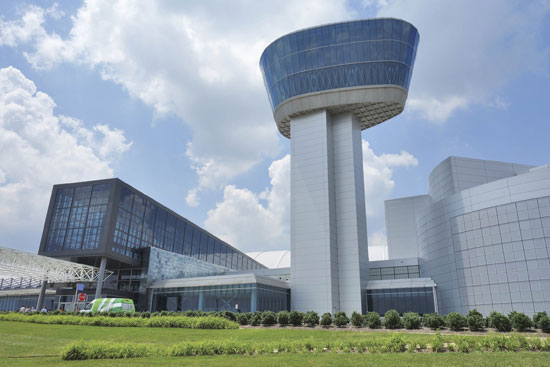 Steven F. Udvar-Hazy Center
(Photo by Todd Franson)
Depending on traffic, where you're coming from, and a few other variables, getting to the Smithsonian National Air and Space Museum's Udvar-Hazy Center can be a bit of a trek. But if you're in any way a fan of the Air and Space mother ship downtown on the National Mall, it's a trek worth taking. If you don't have a car, rent one. Take Metrobus to Dulles International and transfer to a Virginia Regional Transit Association bus for the short hop to the center. And how many museums offer directions to visit by air?
"Welcome Pilots!" reads the Udvar-Hazy greeting. "Fly your own plane into Washington Dulles International Airport, Leesburg Executive Airport, or other nearby fields."
Seriously? Yes. This is a far-out complex – roughly 30 miles from downtown Washington – that takes everything related to flight very seriously. It's evident the moment a visitor pulls into the parking lot, where inscribed airfoils create the "Wall of Honor," recognizing great names of aviation and space exploration, along with those who've helped make the center a reality.