He's funny, campy, quick-witted and doesn't mince words, just like any other drag queen who knows how to work an audience. Marcos, known in some circles as Eclipse B. Child, has a slew of titles in his résumé, including a stint as a former Miss Freddie's for 2011, and as Miss Rouge and Miss Soul Survivor DC in 2012. He even went to the Miss Gay America National Pageant as the first alternate Miss Gay Atlantic States America. But when the wigs and makeup are off, Marcos prefers quieter activities, playing video games, watching movies and reading various medical books and journals. An emergency medicine/trauma nurse by day, this 30-year old former Marine and former dancer makes the rounds at D.C.'s bars, appearing at places as varied as Cobalt, DIK bar and Ziegfeld's/Secrets.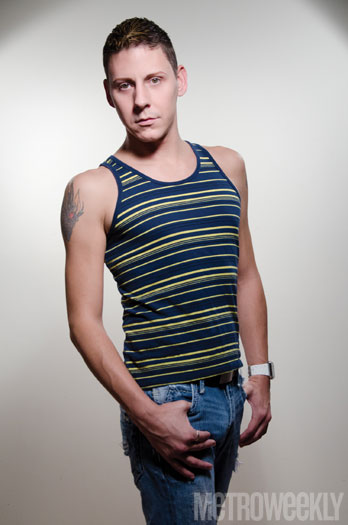 Coverboy: Marcos
(Photo by Julian Vankim)
What's on your nightstand?
A book, my stuffed monkey and a bottle of lube.
What's in your nightstand drawer?
Playing cards, condoms, more lube and an electrical unit.
What are your television favorites?
America's Got Talent. I'm a big fan of Charmed, Roseanne. Lately, I've been watching a lot of these renovation shows on HGTV.
What was your favorite cartoon when you were a kid?
The Popples. They were amazing, and I wish they'd come back. Apparently, my mom was very accepting of me as a child, because I had a Rainbow Brite bedspread and all of the Popples dolls.
Who's your greatest influence?
My great-grandmother. She was an amazing woman.
What's your greatest fear?
I have a phobia of little people. It's a clinical phobia, not even something I can control.