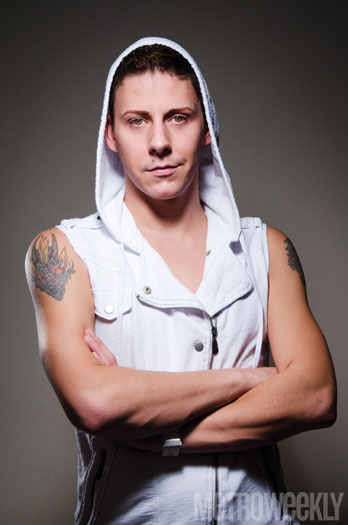 Coverboy: Marcos
(Photo by Julian Vankim)
Pick three people, living or dead, who you think would make the most fascinating dinner guests imaginable.
Ellen DeGeneres, Roseanne Barr and Vin Diesel. The other two would make for interesting conversation, and he'd be good to look at.
What would you serve?
Sushi. I'd like to see Roseanne Barr try to eat sushi. For Vin Diesel, I'd serve me.
How would you describe your dream guy?
Golden-brown in color.
You sound like you're describing a muffin.
Actually, my dream guy is a muffin. Made by Paula Deen. If it's not Paula Deen, then I don't want it. Because muffins are also a little racist.
So, about that dream guy…
Dark hair, light eyes, lean muscular build. If he's my dream guy, he has clean foreskin, smells good and has a foreign accent. Anything not American. Well-endowed and a bottom.
Define good in bed.
I don't just want a bottom, I want a bottom who knows what they're doing. The best sexual experiences are ones that I can learn something from. And if they happen to scream out in another language, that's amazing.
Who should star in a movie about your life?
My boy side should be played by Zac Efron, and my female side should be played by Angelina Jolie. Cher can be her understudy.