If you like a Coverboy who's physically active and has a green thumb, not to mention a compelling life story, 30-year-old Rich is the one for you. Born and raised in North Providence, R.I., Rich initially followed his passion for meteorology, something that he continues to be interested in to this day. "Most guys have their favorite actor, musician or sports hero," he says. "My idol was the local weatherman." He eventually switched his career path, working in a senator's Capitol Hill office for four-and-a-half years before becoming the communications manager at the Hemophilia Federation of America. A hemophiliac himself, Rich spent a year-and-a-half in a wheelchair and was told he'd never walk again. Now, he's an avid jogger who's run marathons. In his spare time, he enjoys hiking and tending to his container garden.
What's on your nightstand?
A picture of my family, rosary beads, and ChapStik.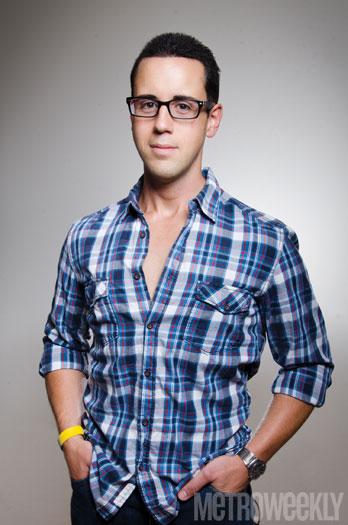 Coverboy: Rich
(Photo by Julian Vankim)
What's in your nightstand drawer?
A journal, an array of pictures and The Golden Girls Season 5 box set.
Where do you keep the condoms and lube?
At CVS.
What are your television favorites?
Grey's Anatomy, Glee, House of Cards, and anything T.G.I.F. – old-school stuff like Family Matters.
What was your favorite cartoon when you were a kid?
Scooby-Doo. I always related to him on a philosophical level, because I'm laid-back, I go with the flow, and I'm a little goofy, but I'll always make you laugh. I even slept with a 4-foot Scooby-Doo in college.
So what happened to the 4-foot Scooby-Doo?
I brought him home after college. My mom had an intervention with me and told me it was time to give him up.
Who's your greatest influence?
My parents, because they taught me to never take "no" for an answer.
Are you a go-getter?
I am. You can put anything in front of me, and I won't say no. My first full marathon, I pushed myself so hard that I actually ended up in the hospital.