You won't hear Lady Gaga's "Applause" at Baltimore's Club Hippo this Saturday, Aug. 24. You won't hear Katy Perry's new single "Roar," either.
You might hear Britney Spears, however. Or Nicki Minaj. But only in the context of the duets those young starlets did with the grand diva mother of them all, the original material girl.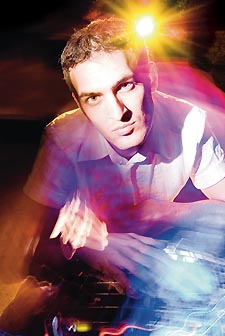 Jason Royce [file photo]
"It's not a divas party. It's all about Madonna," says DJ Jason Royce. "It's strictly 100 percent Madonna."
Royce named his party "Vogue," intended as a nod to the Madonna classic as well as all hits Madonna, of course, and not to today's charting divas and diva wannabes. Nonetheless, people still requested songs by female pop stars not named Madonna at the party's debut last December. But that party was so successful, Club Hippo will host a second edition one week after Madonna's 55th birthday.
Royce, the evening's DJ, says he'll start the night playing Madonna's early hits from the '80s. He'll play both radio and remixed versions of songs from Madonna's repertoire — though nothing too "out there" or too tribal. "Just like my '80s nights, I still try to stay true to the original stuff," says Royce, who made his DJ name in D.C. last decade with his popular retro-themed Flashback party Tuesdays at Cobalt. Over the past year Royce has dramatically scaled back the number of events he DJs. "I was at the Hippo once a month, playing current stuff," the D.C.-based DJ says. "And I just got burnt out." Royce, who these days assists with advertising and marketing for Cobalt, but works full time as a manager at Vida Fitness, is still planning his next party, also expected at the Hippo.
But his focus is on Vogue. This time around, fellow veteran D.C. DJ Darryl Strickland will be on VJ duty. "God, his video library for this is insane — live performances and interviews and things like that," Royce says. The two plan to coordinate what they'll play, so that at times the music Royce spins is lined up with Strickland's video. Says Royce: "He's got this really cool way of synching up video on his computer to what I'm playing."
Vogue is this Saturday, Aug. 24, from 10 p.m. to 2 a.m., at Club Hippo, 1 West Eager St., Baltimore. Cover is $8, or free with military/college ID, or if you're a Leo like Madonna. Call 410-547-0069 or visit clubhippo.com.