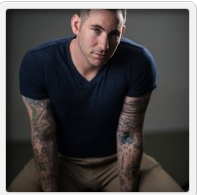 "I feel the gay community, we can create our own popular musicians," says Eric Himan, who, point of fact, is one of the gay community's most popular musicians. He's also one of the best.
A few months ago Himan stirred up debate by writing an opinion column for The Advocate that criticized pride festivals for not featuring gay performers. "If we're using these giant stages sponsored by these beer companies and stuff," he reiterates his main point in a recent interview with Metro Weekly, "how cool would it be to focus on [LGBT] people instead of, you know, just who can we get that's a dance diva from whenever who will get all the boys up to the front?" Himan thinks pride festivals are especially critical today as venues to support LGBT artists. Because of the drastically reduced number of gay stores and gay media around the country, such artists have far fewer outlets to get notice and gain a following. "I kind of want pride to be about," he says, "giving people a platform where they normally wouldn't have a platform, celebrating our artists," those who have the courage to be so public about their LGBT identity and story.
For the record, this year's Capital Pride did feature a performance on the Main Stage from Himan, who says he's actually had "an overwhelmingly positive response" from his Advocate column. "I just got a lot of, 'Thank you for saying that.'…I feel like the thing that happened that was really neat was that it opened the discussion. It got people to talk about it."
People will no doubt be talking about Himan later tonight too, after he makes his debut at Town downstairs at the tail end of D.C. Bear Crue's Bear Happy Hour. At the performance Himan will have great support from his backing vocalists the Soultre Singers. Himan is touring in support of his new set Gracefully. As noted in an article in last week's Metro Weekly, the tearful title track is an ode to his grandmother Grace, who died last year and essentially raised Himan after his mother died when he was only four.
Another song that's sure to be as stirring live is the bluesy rocker "Waiting for Thunder (Malala)." The song is a tribute to Malala Yousafzai, the Pakistani girl who has become a powerful advocate for education, even more so after the Taliban tried to kill her last year, tracking her down on her way home from school and shooting her in the face and neck. Yousafzai, who graced the cover of Time in April, addressed the United Nations last month on her 16th birthday, stressing the importance of girl's education in particular. "I was just so inspired by her sharing her story," says Himan, who has never met Yousafzai. " Somebody so young to be standing up and fearless like that, and the bravery, that even after getting shot, she's still out there. And she's probably even more of a target now." Indeed, the Taliban has her and her father on its list of assassination targets.
As with his Advocate column, Himan has been gratified by the responses to "Waiting for Thunder." He got a standing ovation after a recent performance in Maine — "[but] it wasn't for me, it was for Malala," he explains. "And I thought, how cool is this? That we're in Ogunquit, Maine, and we're celebrating this young girl in a totally random way."
Adds Himan: "Those are the things that make it fun to continue to be in music."
Eric Himan performs tonight, Friday, Aug. 23, at 9 p.m., at Town Danceboutique, 2009 8th NW. No cover. Call 202-234-TOWN or visit towndc.com.