"I think we all realize that what we might have liked in our 20s versus age 40 may be very different," says the Phillips Collection's Elsa Smithgall. Art appreciation, like so many other things, can be funny like that.
Maybe, for example, the younger version of you found the works of Matisse and Cézanne not only baffling but utterly "ridiculous," even "detestable" — but despite those initial harsh impressions you've come around to liking the works of these European masters and others, including van Gogh and Picasso. So much so, you'd like to add them to your permanent collection.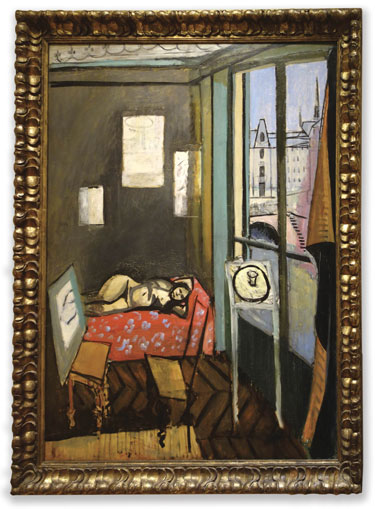 Phillips Collection
(Photo by Todd Franson)
That, anyway, is the fascinating story of Duncan Phillips, the founder of the Phillips Collection. After graduating from Yale University, Phillips effectively taught himself about modern art by hopping around Europe. Eventually, the heir to a steel fortune became an art critic, and as a young man in his 20s published multiple critiques of some of the leading figures of modern art. Phillips was particularly scathing in his initial review of the show that effectively introduced these artists to American audiences, the huge 1913 International Exhibition of Modern Art, which featured 1,200 works by 300 artists, both European and American. The Armory Show, as it was known, "is a watershed moment in the history of modern art," according to Smithgall — and it was particularly pivotal in shaping what became one of the country's first and most influential museums of modern art. Because, yes, in fact, the Phillips Collection, established in 1921 in Duncan Phillips's old mansion in Dupont Circle, does feature artworks in its permanent collection by those very masters that its founder famously first derided as "a bunch of damned fools."
Smithgall, a curator at the Phillips, has organized the special exhibition History in the Making: 100 Years after the Armory Show, which offers a small window into the 1913 show and its impact on Phillips. "We only have a few matches so it's not at all an exhibition that recreates it," Smithgall says. The exhibition includes two Cezannes, two Picassos and a Matisse. It also includes Red Barns, a painting by Allen Tucker, who was dubbed the "American van Gogh" and "was really important during his time," but has since dropped off the radar. (Smithgall kept out any actual van Goghs, saving them for the exhibit Van Gogh: Repetitions starting in October.) "I put some artists in there that people aren't familiar with, that are going to be surprises for people," Smithgall says. In particular, there are American artists such as Albert Pinkham Ryder, Walt Kuhn and Theodore Robinson. "American artists actually got eclipsed by a lot of the press that was covering the European side of the Armory Show," Smithgall says, "but two-thirds of the whole exhibition were Americans."
Smithgall has also included in display cases bound publications featuring Phillips's published criticism of modern art and the Armory Show. This includes a revised edition of the book in which he had originally made many of his most damning pronouncements against the modernists. "Matisse was subjected to much unthinking abuse and ridicule by those who did not understand what he was trying to do. Alas that I should have contributed to that scandal!" Phillips wrote in one passage of the 1927 edition of Enchantment of Art.
"I think what's fascinating is that you have in Phillips this need and desire to recant," Smithgall says. "He was particularly interested in the role of his museum in terms of educating people. He wanted to share with other people the way he had evolved."
History in the Making runs to Dec. 1 at the Phillips Collection, located at 1600 21st St. NW. Admission is $12. Call 202-387-2151, ext. 247, or visit phillipscollection.org.