Eleanor Holmes Norton was 26 years old when somewhere around 250,000 people descended on the nation's capital for the March on Washington for Jobs and Freedom, Aug. 28, 1963.
A native Washingtonian who has represented the District of Columbia in the House of Representatives since 1990, Norton calls the march the "zenith point" of a decade of protests, many of which she witnessed firsthand as an organizer of sit-ins in D.C., Maryland and Ohio.
"There had been no mass march that anyone could remember," Norton says. "We got to the point, especially after you got to Mississippi, there's no place else to go but to the seat of power."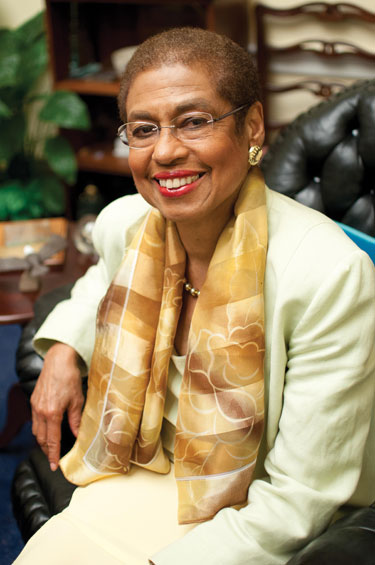 U.S. Rep. Eleanor Holmes Norton
(Photo by Todd Franson)
Sitting in her Capitol Hill office, Norton reflected on her role in the march – during which she worked side-by-side with the gay man who organized the march, Bayard Rustin – as well as the lessons that can be drawn a half century later.
METRO WEEKLY: How did you come to be at the March on Washington 50 years ago?
ELEANOR HOLMES NORTON: I was a law student at Yale Law School. I had gone to the [Mississippi] Delta to work for at least part of the summer on preparation for what was called the '64 Summer when it was planned students would come down. So I was working on the prototype for the workshops for voter registration.
Mississippi was the last place to open. There had been demonstrations throughout the South. Medgar Evers, the state [field officer] of the NAACP, had to lead — he's a grown man — had to lead the sit-ins in Mississippi. There were so few lawyers that Medgar Evers showed me all around Jackson trying to convince me to stay. No lawyers. A law student, which are a dime a dozen now, was a rarity.
I know I'm going to the delta, I promised I'd come there because if Jackson — and [Evers] had been beat terribly at the lunch counter — was like that, you can imagine what a place, which really had no movement. He ultimately took me to the bus station to get the last bus — 10 o'clock or something — he went home and he was shot in the back. That's the night he died. I learned the next morning when they woke me up and told me that. So this is how I was christened in Mississippi and prepared to stay.
I had been in touch with friends, and the talk of the march was all over New York. I'm a native Washingtonian, but lots of my friends were in New York and I knew them and knew Bayard Rustin very well because there was a small clique of us young people who were — What should I call us? — students of Bayard Rustin, who was a one of a kind. He was an activist of the kind none of us had been. He had been a pacifist during World War II, sent to jail for a year, did civil disobedience there, got out in the '40s and did an early Freedom Ride, was a student of Gandhi, deeply involved in the labor movement.
In New York, either you were coming to hear Bayard speak, or Bayard was just hanging around in his apartment, or you were hanging in a bar with him. That was the kind of guy he was.
The most important thing to remember when talking about the March on Washington is you will hear endlessly about, "Oh, I remember this speech or that speech or that sight," and of course I will have those memories. I'm sure they're duplicative of memories others had. But what is less duplicative is the experience I had as a very young woman working for the March on Washington.
I got a call saying, "Eleanor, it's going to happen. It's really going to happen. If you want to do it, this is the time to come." And so I left Mississippi, for then, and went to New York, bunked with a friend in a five-story brownstone where the march was essentially organized by one man. There was one field marshal. And in my judgment [Rustin] was the only person who could have organized the march, and I say that out of some sense of history.
There had been no mass march that anyone could remember. Sure there had been soldiers here and there marching, but no mass march. The important thing to remember about the march, it seems to me, is that this wasn't somebody's bright idea. This was the zenith point of 10 years of protests and demonstrations throughout the South. We got to the point, especially after you got to Mississippi, there's no place else to go but to the seat of power. And the man with the skills who knew how to organize something – Bayard was by then in his 50s – had the experience of a lifetime.
He was, for me, a public intellectual. He was a major master of strategy, having been an adviser to civil rights leaders like Martin Luther King. And the reason he had been such a major adviser is that he knew how to do something. The Civil Rights Movement, like every movement, was an ad hoc affair. What was not an ad hoc matter was the March on Washington. And it wasn't ad hoc, but it was without precedent. And if you're doing something without precedent, somebody smart has to be in charge. Now the umbrella, the overriding grand master of the march, not the organizer of course, but the one who drew everybody together was A. Philip Randolph. And there's a reason why he was, because he was the only black man in America who organized anything. I still don't know how he managed to do it. This was a man who knew something about organization. And Bayard had been his mentor.
So for me, yes, being in the march I can tell you a thousand stories that you've already heard. But it was the anticipation, the understanding that people would come. All we didn't understand was how many people.
MW: Now Bayard Rustin is going to be awarded the Presidential Medal of Freedom.
NORTON: I went to [Rep.] John Lewis (D-Ga.), who was the chairman of [the Student Nonviolent Coordinating Committee], and I said, "John, we got to get this Medal of Freedom for Bayard because he is the man who made it happen, but is least recognized." And so wrote a letter that was signed by everybody in the Black Caucus; called Valerie Jarrett, said, "Look, this is the time to do it." It was very important that it was announced. You can't have this march and have Bayard unrecognized.