When we're children, fitness is a direct result of play. We go outside, run around with friends and burn calories. As we get a bit older, some of us transition into sports. At that point, staying in shape for our specific sport is the driving force behind our fitness.
For example, playing offensive line on my high school football team meant I was training for pure strength in my legs and chest – all for driving the other team down the field. Now, I play hockey recreationally and as a result need to do a lot more conditioning and agility training.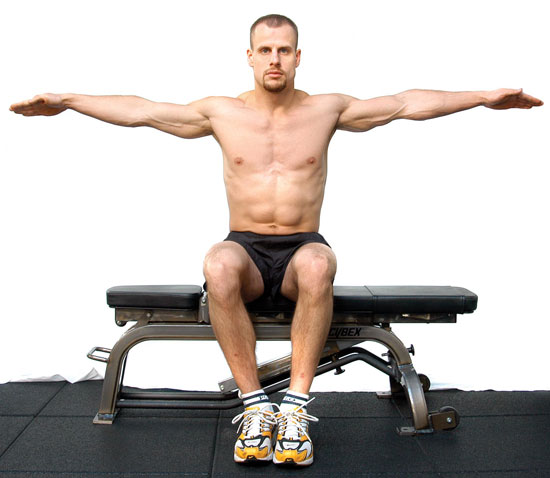 Each sport has a different set of needs, and you can see this represented by the different physiques that seem to excel at each sport. Finding information on how to train to that specific need can be difficult and convoluted. The easiest way to get around this problem is to look at your sports and simply replicate the moves with resistance.
Almost all of the movements in a sport can be brought to your workout regimen through the use of plyometrics and agility training. Plyometrics is a fancy term for "jump training." It is a way to increase both your speed and power by pushing your muscles to exert maximum force in a short amount of time. Regardless of your strength training and cardio, plyometrics can help you excel at any physical sport.
For football, it will help leg-drive off the line, your speed through the receiving route, and how quickly you can hit your three-step-drop off the snap. For soccer, your footwork and punting distance will see a marked improvement. Plyometrics is also included in vertical jump training for basketball, and agility training for hockey.
Simply put, it is something everyone who is involved in sport – whether you're in youth leagues, professional or a weekend warrior – should be implementing in their training.
The most exciting part is how easy plyometrics are to implement into a normal workout. The programs are short, quick and have an incredibly brief learning curve. A circuit (or quick execution with minimal rest between exercises) of squat jumps, one-legged jumps for height, depth jumps (jumping from a high platform to a lower one), and my favorite, the rebound jump (jump from a high platform, to a lower one, and immediately spring up to a medium-height platform) will put you well on your way to exploring the possibilities of plyometrics.
Agility training is also easy to implement, though it requires at least a way to mark specific intervals on a field.
The most common piece of equipment used for it is called a "speed ladder," flexible ladders laid flat on the ground. After you mark your intervals, it becomes just as easy as plyometrics. Simply step through the ladder as quick as possible, placing both feet in each section. Afterward, execute it going back. On the return, however, step outside of the square, then inside with both feet alternating. These are done for time, and you will have to push yourself to improve each workout to see benefits.
It is recommended to replace one of your cardiovascular training days with the plyometrics and agility training. These will get your heart rate up and burn some calories, just as cardio will. It's also a great way to change up your typical cardio and get a fresh perspective on your fitness level. All of that, though, pales in comparison to the overall benefits your will start seeing in your particular sport with the aid of plyometrics.