Daniel Clarkson has a valid fear of "Potterheads."
"These people come dressed up with all their wands," he says about fans of Harry Potter. "Although the wands might not be able to do magic, if you get a wand shoved in the wrong place it still hurts."
Fortunately, Clarkson has so far avoided any wand wounds from Potterheads angry at a wrong word or detail in his parody of the Potter franchise, co-written and co-performed with Jefferson Turner. In fact, Potted Potter: The Unauthorized Harry Experience has been a critical and commercial success everywhere it's played.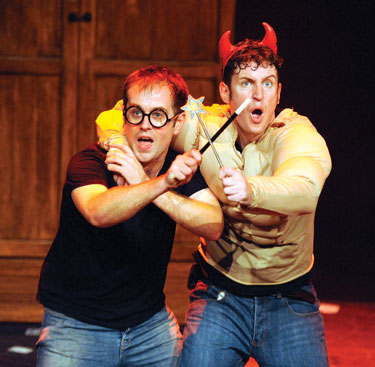 Potted Potter: Jeff Turner and Daniel Clarkson
(Photo by courtesy of Potted Potter)
"What we attempt to do is condense all seven Harry Potter books into 70 minutes," Clarkson says. "Jeff plays Harry Potter, which leaves me to play all the 360 other characters. And we throw in a live game of 'quidditch' as well."
The idea for Potted Potter, which makes its Washington debut next week at the Shakespeare Theatre Company, came from a publicity stunt as part of the launch of H.K. Rowling's sixth Potter book, 2005's Harry Potter and the Half-Blood Prince. At the time, Clarkson was doing a lot of standup comedy in the U.K., and a friend of his at a London PR firm asked him to condense the plot of the first five books into a 20-minute sketch. Ever the comedian, Clarkson says he recruited Turner to help because, "He looked like Harry Potter if you kind of squint and look the other way." Soon enough, the two had created a full-length stage show that was a sell-out success at the world-renowned Edinburgh Fringe Festival.
Thanks to its seemingly unstoppable success, including hit runs on London's West End and New York's off-Broadway, Clarkson and Turner have started a company, Potted Productions, and are considering future condensed parodies of The Lord of the Rings and Dr. Who. But they have already developed two other thematic shows that have toured the U.K.: Potted Panto, condensing eight pantomimes popular in that country at Christmastime, and the multi-sourced Potted Pirates.
"You can see the theme here," Clarkson says. "It's what we kind of want to dress-up as: wizards, pirates and princesses. That kind of sums us up as people."
Potted Potter opens Thursday, Sept. 5, at 7 p.m., and runs to Sept. 15, at Sidney Harman Hall, 610 F St. NW. Call 202-547-1122 or visit shakespearetheatre.org.