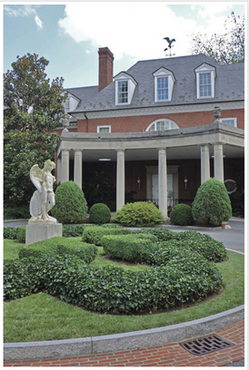 Marjorie Merriweather Post's Hillwood Estate in leafy upper Northwest D.C. has been open to the public as a museum since 1977, or four years after Post died at the age of 86. But Post conceived of Hillwood as a museum essentially from the moment she bought the property, originally called Arberemont, in 1955, according to Hillwood curator Estella Chung.
"During Marjorie Post's lifetime she was already displaying her collection in a museum-like manner…so she and her guests could appreciate her collection," Chung says, adding with a laugh: "She was not a hermit or a hoarder." On a guided tour through the mansion, Chung pointed to Hillwood's many display cabinets and pointed out inconspicuous tiny drawers offering additional information about the collection. Post had these installed early on, and she welcomed her first houseguests to Hillwood in 1957 after two years of extensive renovations plus the addition of brick buildings to house her staff. She also hired landscapers to design, among other things, a pet cemetery for her many pet dogs, a putting green, a rose garden, a Japanese garden, a French Parterre and a small Russian dacha, built in place of the previous owner's swimming pool.
As detailed in a profile in the annual Museum Issue of Metro Weekly, staff life at Hillwood is the focus of a special exhibition right now based on Chung's informative new book Living Artfully. Just as with guests in Post's day, a visitor to Hillwood today could spend a full afternoon exploring the mansion and the faithfully maintained grounds and gardens. Factor in more time for a stop at the Hillwood Café, ideally for a casual lunch, but at the least early afternoon coffee — or the Post family's coffee alternative Postum — and signature Adirondack Pie (thin pancakes with butter, maple syrup and crispy maple sugar) for two.
It all makes for a lovely daytrip away. And yes, Hillwood is open both this Saturday and Sunday — and also easy to get to, just a 10-minute jaunt through a lovely neighborhood from the Van Ness Metro stop. What are you waiting for?