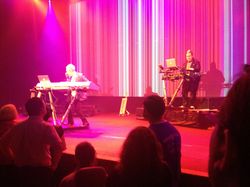 Erasure's Andy Bell was to appear tonight at the Howard Theatre alongside Howard Jones as part of the D.C. stop of the Regeneration Tour — but that tour hasn't worked out as planned. Originally it was intended to be a one-stop shop to see hit-making synth-pop acts of the '80s, with Men Without Hats and Information Society along for good measure. (Actually originally, as in earlier in the year, The Human League was to be the headline act, the rest the supporting acts.) Instead, now only Jones will grace the Howard Theatre's stage, something the hippy electronic artist just did last summer, when he performed his first two albums Human's Lib and the hit-packed Dream Into Action in their entirety — though mixed up, with the singles played last.
But a solo show by Jones, who's been in the game 30 years this year, isn't exactly a consolation prize. Last year Jones put on a fascinating show, proving himself a good if eccentric singer with equally good, eccentric instrumentation, including an expansive electronic drum kit — even some large electronic thundersticks he hit the floor with (see photo below). And then there are those hits, from the touching "No One Is To Blame" to the rousing "Things Can Only Get Better."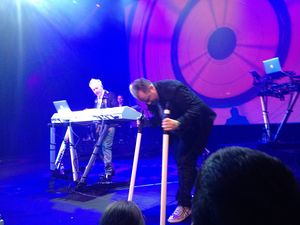 The show is tonight, Monday, Aug. 19, at 8 p.m., at the Howard Theatre, 620 T St. NW. Tickets are $35.