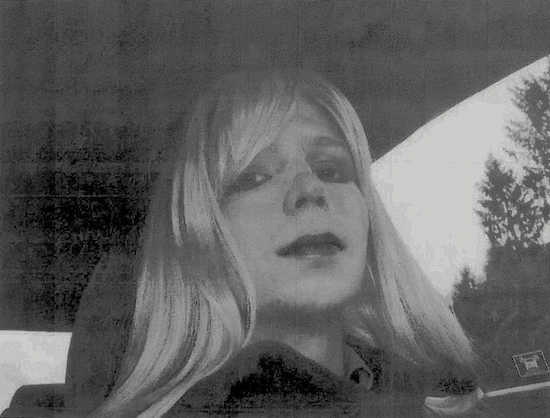 The Human Rights Campaign has called on Pvt. Chelsea Manning to be treated with respect by the media and officials in a statement marking the first time the nation's largest LGBT organization has addressed the Manning case.
"Regardless of how she came to our attention, Pvt. Chelsea Manning's transition deserves to be treated with dignity and respect," HRC Vice President and Chief Foundation Officer Jeff Krehely said in a lengthy statement released hours after Manning came out in a statement shared by her lawyer Thursday morning on the Today Show.
In her statement, Manning stated, "As I transition into this next phase of my life, I want everyone to know the real me. I am Chelsea Manning. I am a female. Given the way that I feel, and have felt since childhood, I want to begin hormone therapy as soon as possible."
Manning was sentenced Wednesday by a military judge to 35 years in prison for providing more than 700,000 government files to Wikileaks in one of the largest leaks of classified documents in American history.
"As she requested in her letter, journalists and other officials should use her chosen name of Chelsea and refer to her with female pronouns," Krehely continued. "Using the name Bradley or male pronouns is nothing short of an insult. Media, having reported on her wishes, must respect them as is the standard followed by the AP Stylebook."
HRC, like many national LGBT organizations, had previously declined to address the Manning case. But following reports that Manning will not be provided transgender medical treatment at Fort Leavenworth, Kan., where she will be incarcerated, Krehely said the government has a legal responsibility to do so.
"As Pvt. Manning serves her sentence, she deserves the same thing that any incarcerated person does – appropriate and competent medical care and protection from discrimination and violence. The care she receives should be something that she and her doctors – including professionals who understand transgender care – agree is best for her," Krehely stated. "There is a clear legal consensus that it is the government's responsibility to provide medically necessary care for transgender people and the military has an obligation to follow those guidelines."
As Metro Weekly reported yesterday, advocates say there is a clear legal precedent that Manning must be provided transgender medical care while incarcerated and to not do so would be considered cruel and unusual punishment.
"It would be just as unlawful to deny medical care to a transgender person in military prison as it would be to do so in civilian prison. Either way, a person must be given adequate medical care," added Jennifer Levi, Transgender Rights Project director for Gay & Lesbian Advocates & Defenders, in an email to Metro Weekly. "The fact that it is military prison does not absolve the government of its responsibility to provide adequate medical care. The Eighth Amendment prohibits cruel and unusual punishment which courts have said includes the denial of adequate medical treatment."
Despite the call for appropriate medical treatment for Manning, HRC's Krehely made clear that Manning's actions, for which she was found guilty on 19 of 21 charges against her, including six counts of espionage, are not reflective of the many transgender servicemembers who must continue to serve while in the closet.
"What should not be lost is that there are transgender servicemembers and veterans who serve and have served this nation with honor, distinction and great sacrifice," Krehely concluded. "We must not forget or dishonor those individuals. Pvt. Manning's experience is not a proxy for any other transgender man or woman who wears the uniform of the United States."
[Photo: An image of Manning sent in a April 24, 2010, email coming out to her supervisor/Via U.S. Army file.]