Recently, Ana Matronic left a voicemail. But it wasn't for Pickles, so she didn't ham it up. And since she was calling for a Metro Weekly interview, she also didn't exactly propose a "kiki." But in her way she did complain about the MTA.
"I am a little bit late, my apologies," Matronic said. "I was running errands, and at the mercy of the subway."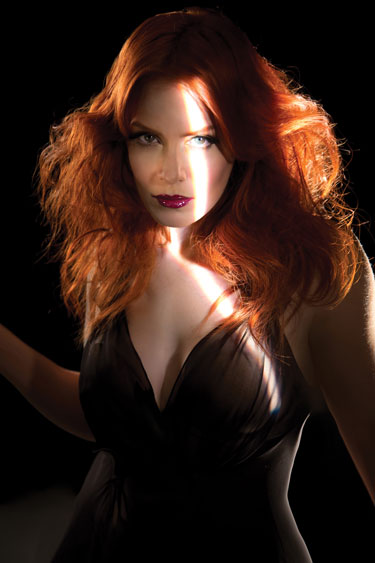 Ana Matronic
(Photo by Seth Kirby)
Last year at this time practically every gay in the global village was complaining about the MTA — "which should stand for Motherfuckers Touching my Ass," as Matronic so memorably put it on "Let's Have a Kiki," the Scissor Sisters hit.
Then, just a couple months later, when people were still drunkenly "kiki"-ing, or partying, the band announced it was going on an "indefinite hiatus" to allow the foursome to take a vacation and pursue other projects. The hiatus is still very much on. Matronic, for one, is nearing the final stage of putting together a debut solo album, with the first single expected by Halloween and the full set due "shortly after that." As a teaser, and an excuse to get back onstage, Matronic will preview at least one song from the new set at Town Danceboutique on Saturday, Sept. 7.
"I think it's just gong to be a short little set," Matronic says, "but we're going to be as in-your-face and hopefully as fun as possible." She's bringing with her Benny and Javier Ninja, from Harlem's "Legendary House of Ninja," made famous from the classic 1990 documentary Paris Is Burning and known for elaborate drag balls and voguing. "I've been under their incredible tutelage. They are my sensei," Matronic says. "I've been learning to vogue and we've been working on a live show together."
Matronic will perform at least one Scissor Sisters song — as well as "Let's Have a Kiki," of course — on which she was prominently featured. From "Tits on the Radio" to "Kiss You Off" to "Any Which Way," any time Matronic was out front in a Scissor Sisters song, it was a party.
In fact, the more you learn about the band, the more you appreciate that Matronic, in many key respects, has been the driving force behind the Scissor Sisters. Especially in concert, Jake Shears may be the lead singer and lead showman, but Matronic was essentially in charge of the stage goings-on, particularly for last year's tour. More fundamentally, Matronic, the lone female and heterosexual, was also instrumental in making the band. She put its pseudonymous founders, Shears and Babydaddy, onstage for the first time as Scissor Sisters in 2001 at the New York club party she promoted, joining them to add some pizzazz. The two gay men smartly realized they needed her to be in the band. With her charisma and stage know-how, she helped the band generate buzz for its music, turning it into one of the world's biggest pop acts — certainly the gayest.
Even on the phone, Matronic oozes charisma. She also proves herself to be smart and savvy — and sweet — and one of the gay community's staunchest straight allies, using her pop-star platform to draw attention to gay rights, particularly internationally. To paraphrase a famous line of hers, Putin: She's gonna let you have it.
METRO WEEKLY: Let's start with the question on everyone's mind: "Indefinite hiatus," is that still the status of the Scissor Sisters?
ANA MATRONIC: As far as I know, yeah. But I don't think it's going to be too long. I definitely know how I feel as a performer. I am always itching to perform, and I'm sure it's not too long until we're like, "Okay, it's been a while. We're getting bored here. Let's get back together. Let's do this." But it has been nice having a bit of a break in getting off the roller coaster, because it can be really hard and very, very demanding. We did two albums back to back. Writing, recording, touring. We never really stopped touring between Night Work and Magic Hour. We probably only really had about three months off between the touring of the two, so it was a real ride. The hiatus has been nice. I've definitely been able to get some shit done that was ignored or put off.
MW: Well, you hear "indefinite hiatus" and automatically assume the band's never going to get back together. They're done. But you're saying you don't see things that way with the Scissor Sisters?
MATRONIC: No, I definitely don't. I definitely know that we have at least one more album and tour in us, if not more. We all have other pursuits and other projects that we've worked on since the beginning of the band, and so it's nice to just take a step away, be able to do those other things. And I think you come back together feeling very individually fulfilled. Because sometimes when you are in a group, that group takes over, and you are locked into a dynamic. Locked into a role. And there are so many other modes of creativity for each of us in the band, so it's been really fun for me to have some time to concentrate on writing my comic book, which I've been writing for three years. And work on the Joshua Light Show. And work on a solo record. And collaborate with people that I've been talking about collaborating with for years and never really had the time because I was on tour with Scissors. It's been nice to be able to do those things, but I definitely know that there is something with Scissor Sisters that doesn't happen anywhere else. There is a magic in the combination of the four of us that I don't think I'll be able to create any other place. And certainly not alone.
MW: Would you mind briefly explaining how you got started with the Scissor Sisters? I've seen a couple slightly conflicting stories. Where did you meet Jake and Babydaddy?
MATRONIC: Jake and I met through mutual friends on Halloween at the Slipper Room, this club in the Lower East Side where I was doing a show. We met on Halloween. He was dressed as a late-term back alley abortion, and I was dressed as an Andy Warhol Factory reject. And we took one look at each other, and I was like, "You're my kind of freak." And I invited him to perform at our next cabaret show, which was a week later. And he was there onstage and performed a couple times. And then he brought Babydaddy, and they performed as Scissor Sisters. So the very first show was at my night at the Slipper Room, called "Knock Off." I introduced Jake and Babydaddy as Scissor Sisters. They performed twice at the cabaret. And then at a friend's birthday party, about a month after that, Jake said, "Oh, you know, we've been thinking we might want some feminine energy in the band, and I can't think of anybody who'd be more amazing than you."
MW: Did you have any qualms about joining a band with that name?
MATRONIC: No, oh my God, not at all! I was really mad I didn't think of it myself. Luckily, I got to have at least some ownership of it.
MW: Did the idea for "Let's Have a Kiki" germinate with you?
MATRONIC: It was a collaboration. "Let's Have a Kiki" was Jake's idea, and it was also his idea to do the phone message. But everything in the phone message was me, sort of basing it on a former experience and trying to come up with something funny and engaging. And something to start a party. And wow! Did it ever! More than I could have ever imagined. I knew it was a fun song, but I had no idea the phenomenon it was going to create.
MW: Well, maybe you can do it again with a future single from your debut album.
MATRONIC: I do hope to be delivering an entire album of that fun. [The solo set] is definitely a record that is designed for the dance floor. That's where I find my bliss, and that's where I want to create it as well.
MW: I know that a solo record is just one of several Scissor Sisters side projects you're working on during the hiatus. Another is lighting design. I understand you're working with your husband, Seth Kirby, on that.
MATRONIC: Well, he does a multitude of things, and he's actually my main collaborator on the music for the solo record. Both Seth and I are in a light show called The Joshua Light Show. It was the original psychedelic light show in the '60s at the Fillmore East. And about eight years ago they had a revival of the light show, and Seth has been a part of it since the revival and has become the sort of right-hand man to Josh, the originator of the light show. And I joined in 2010. All the stuff that I do is with liquids. I use a giant overhead projector, and make light that plays behind bands out of oil and water, and the combination therein. All that old liquid imagery that you see from the '60s behind Jefferson Airplane or Jimi Hendrix or the Grateful Dead, I know how to do!
MW: How often does the Joshua Light Show tour?
MATRONIC: We do gigs all over, pretty much anytime we're asked. In April, we were at [University of California] Davis playing with Medesky Martin & Wood. We were at Pace University in end of June/July with So Percussion, and then in October we're going to London to play the Barbican [Centre] for two shows. Oh, and we're backing up MGMT when they play the Barclays Center in Brooklyn in December. I'm super excited about that, I love them.
The Light Show is such an amazing thing to see. It defies description. It's a lot like talking about music. It is its own beautiful visual music that really enhances the experience. It's incredible to see and it makes what you hear have so much more depth and layers.
MW: Do you ever incorporate that into your performing, in your music?
MATRONIC: Yeah, actually. Seth and I made visuals for the last Scissor Sisters show. So there were several songs that had handmade visuals by Seth and myself. And he's done work with Scissor Sisters throughout. He did some visuals on the Night Work Tour, had some on the Ta-Dah Tour. So, yeah, he and I have had our fingers in the production of Scissor Sisters. But it's going to be very hands-on for my solo record, and has been so far. It's really just been all us. The photo shoots, the imagery — all of it is coming from us and from our creative collaborations, and literally from the inside of our house.
MW: I guess that's something in all these years of covering Scissor Sisters I overlooked: your role with the band's live production, which was always top-notch.
MATRONIC: I was more or less the production designer on the last tour. So I was writing lighting cues and working with the lighting director on the show and overseeing the production and watching shows every night and giving back notes and things like that. So the live experience is something that is really, really important — the most important thing, as far as I'm concerned. I'm really, really invested in what the audience gets from us. And so I was really heavily involved.
MW: Let's talk a bit about your childhood in Portland, Ore. I understand your parents separated when you were young.
MATRONIC: Yeah, very young, 3.