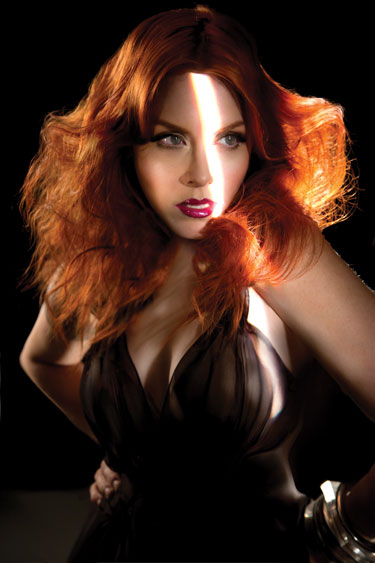 Ana Matronic
(Photo by Seth Kirby)
MW: And the separation was a result of your father coming out as gay. Is it true that part of the reason you think you long ago immersed yourself in gay culture is because your father was gay?
MATRONIC: That sentiment is in hindsight. It was never something that, when I was 20 and attracted to drag, it wasn't because I had lost my father at 15. It was just because that's what I liked.
Looking back, I think there was a subconscious desire for me to understand my father in a way that I wasn't — you know, I'm not able to talk to him about his experiences. But I think I really learned a lot about where his head was at, and why he made the decisions he did. And it provided me a great deal of, I think, understanding and forgiveness, because, when you're a kid and your dad leaves you, you don't really understand the reasons why. And you can hang on to that anger and never process it and never let go. And it can cause really detrimental things later on in life. And so, I think in order to forgive and to process the anger and those feelings of abandonment, I subconsciously immersed myself in a world — or, maybe it was just moving to San Francisco, because that's where he had lived.
My father was never, to my knowledge, involved in the drag scene, or any sort of scene. He was, besides his sexuality, a pretty straight person. He was really preppy, had a Silicon Valley job. And liked musicals and interior decorating. [Laughs.] It sounds really cliché, but that's what he was into. Looking back on it in hindsight, I think there was a certain desire to understand what was going on with my father. But, really, I just sort of fell into this drag community and it spoke to me as somebody who loved to put on the glamorous look and lip-synch to songs, and to get onstage and perform. And that's what drag was and continues to be: this great way to get that hit of performance adrenaline, which I love.
MW: How was growing up in Portland?
MATRONIC: I'm so thankful I grew up there, because I definitely felt like a city kid even though it's a very manageable city, where I could walk around as a 10-year-old, unaccompanied, and feel more than safe. But Portland, it doesn't have the diversity of a big city, the kind that I crave. I felt like I had already, at 21, experienced what Portland had to offer. Portland was live music and beer, and hanging on a friend's porch, and nine months of rain.
MW: As an aside, I should ask what you think of Portlandia?
MATRONIC: Oh, my God. Okay. Portlandia is so on-the-nose, it's crazy. I think it's hilarious. I have one major gripe with Portlandia and that is it never rains on that show. Why does it never rain? And there's never been a sketch about the rain. And there has to be or I'm not going to watch it anymore. Yeah, with the women's bookstore skit, it should always be raining when people are going in there, I think. Why else are people going in there? It's raining!
MW: Your first big city was San Francisco, where you and your sister had gone often to visit your father after he moved there.
MATRONIC: Oh, yes, several times a year. So San Francisco was already a second home to me by the time I was a teenager. And moving there felt at once exciting and challenging, but also like a homecoming. I hadn't been there since my father passed away.
MW: Did you consider yourself close to your real father?
MATRONIC: I didn't think of him as a very open person, but yes, I was as close as I could be with quarterly visits, and we would talk maybe once a week. And then I have my stepfather who really was my more dominant father figure, who came into my life when I was 7. So I was very lucky to have two dads in my life. I had very strong day-to-day dad in JF. And then Robert, my biological dad, he was sort of my fun dad, and he took me to do fun things every time I would come see him. And he's the first person to take me to New York, actually.
MW: Who do you take after most?
MATRONIC: Well, I'm definitely my mother's child, but my father gave me some real gifts and some real traits. I love, love, love architecture, and that's my father all the way. And I love theater and theatrical stuff, and that's also my father. He was really into the theater, and very much into old-style Hollywood glamour, and loved taking me shopping. He was a very sensual person. He loved anything that tasted good, smelled good, looked good. So he passed on a real love of that to me. I've never felt his presence so much as I have while renovating a home, which is what my husband and I have been doing for five years. We've been renovating a house in Brooklyn. It's his voice that I hear, "Yes, go all the way. Do not half-step it."
MW: Growing up, were you performing and viewing yourself as a performer?
MATRONIC: Yes, definitely. My mother likes to say that, when my sister and I were in the bathroom, she never knew how many people were actually in there because there were so many different voices going on. And my sister and I were definitely two little hams together. We were Muppet Babies. We loved The Muppet Show. And I really credit The Muppet Show as being one of my first inspirations, because it was all about what was happening backstage, and then what was happening onstage. We were both really into performing, and both were in drama in high school. We both won Actor of the Year our senior year in high school. [Laughs.] And she still does music as well. She's in a taiko drumming group in Seattle, where she lives.
MW: I understand that your mother is a big fan of yours?
MATRONIC: She is. She wears a sparkly shirt that says "Mama Matronic" across it. She loves to come see us perform. She's 77 now, so she doesn't get to make it out to some of the shows as much as she'd like, but she's never missed a show when we go to the Northwest.
MW: One of my colleagues, who is a huge Duran Duran fan, wanted me to ask how was it working with them, recording the 2010 song "Safe (In The Heat of the Moment)" and singing with them live a few times?
MATRONIC: It was one of those things that I can't even call a dream come true, because I never even in my wildest of wild dreams thought that I would ever work with Duran Duran. So it's one of those things that's so incredible and so awe-inspiring, it kind of doesn't compute. I had to at one point early on in the process — I was in the studio with Mark Ronson and Simon LeBon and Nick Rhodes — and I had to walk out of the studio and walk into the bathroom, close the door and just kind of have a little mini freak-out. I looked into the mirror, and there's this 10-year-old me, wetting her pants. [Laughs.] And it's that little chubby 10-year-old that I sort of elbow in the ribs and just think, "Can you believe this? You never thought this was going to happen!"
MW: Tell me about the work you do with Amnesty International, raising awareness about global gay rights.
MATRONIC: I'm involved with Amnesty particularly in the case of a woman named Noxolo Nogwaza. She is an LGBT activist in South Africa, who was brutally beaten, raped and stabbed to death for her work. And so I've been working with Amnesty just in an effort to get her story out, but also just to get people to support Amnesty, and support gay rights, not just in America but in the world. We've come really far in America, and thank God for our Supreme Court repealing DOMA. I'm really happy about that. But stories like Noxolo really show us how far we have to go in the rest of the world. And there's still a lot of work to be done.
What we can do as people is take the time to send an email, or send a letter; send a note of support to somebody. I think about my gay friends in Russia. I think about Pussy Riot in Russia every day. And I think what we really need to do right now is just use our voices in whatever way we can. Amnesty is a really important way to do it.
It's really important for gay people to be visible. For people like Noxolo who take the chance to be visible, they can often pay with their lives. And I don't think that should be forgotten.
MW: On the topic of Russia, there's a lot of debate over what in the grand scheme of things seems trivial — whether we should boycott Russian vodka such as Stoli, for example. How do you feel about that? What do you think people can do to make a difference?
MATRONIC: I think people do what's important to them. And I think in America we do speak with our wallets, and we speak with our money. We have a capitalist system. And so taking your dollars and using them that way I think is one. I'm not buying Russian vodka. I'm trying not to buy Russian products.
It's really difficult because my heart wants to say boycott the fuck out of Russia. But then I've been there and I've met the people who put on the Queer Fest in St. Petersburg, and I want to support them. And I don't want to not go to Russia because that would mean not seeing them, and not supporting them physically. But I think Vladimir Putin is a motherfucker. And I think he is setting himself up to be a czar. Putin is putting himself in the same place that Czar Nicolas, in the same place that Stalin was in, in the same place that Lenin was. And it's not democracy, it's bullshit. And so we have to continue to use our voices. I'm very lucky to have a platform, and my voice can reach a lot of people. I just think that it's important for everybody to do something. And I think that for me what really works, and what we need to do, is use our voices. It's hard. It's early days yet. But I'm hopeful that with enough voice and enough pressure, we can change things.
You know, I came of age in the '80s and '90s, when ACT UP was a big thing. And I had that "Silence=Death" bumper sticker on my car. And I believe it. Silence equals death. If you do not speak up your rights will be taken away. And the voice and the visibility just lends to the cause, and lets people know that the homosexual community is a community of human beings.
MW: What else is on your horizon? Is it true there are talks of you becoming a judge on the U.K. edition of The Voice?
MATRONIC: I don't know. There have been rumors. I've been a mentor on The Voice over there. And I think a couple of judges are leaving. I would love to do it. It would be so fun. And I'd get to sit in one of those chairs! It'd be rad. Beyond that, I would really love to work with people who have amazing voices but then maybe have some confidence issues, or some performance anxiety. Or need performance help, because that's something I'm really good at. I can get a good performance out of somebody.
MW: You did something similar with Eurovision, I gather.
MATRONIC: For Eurovision I just provided commentary, which was so fun. And it was just me in a booth watching the show and then introducing each act and stuff. It was so much fun, I had a great time. And I hope they ask me back. I had such a blast.
MW: How about personally? Do you see any kids in your future?
MATRONIC: Oh boy. I love the idea, but completely terrified by the reality of it. But perhaps. And if not biological, than probably adopt a kid. Sometimes I think that maybe a foster kid, or if there's a trans kid who's been in foster care, who needs a place, that may be my kid someday. I don't know. I'm open.
Ana Matronic performs Saturday, Sept. 7, at Town Danceboutique, 2009 8th NW. Cover is $8 before 11 p.m., or $12 after. Call 202-234-TOWN or visit towndc.com.